Sometimes, I just want some simple yet superb food. So I decided to fancy-roast the chicken used for this lovely lunch recipe, and it was definitely worth it.
Ingredients:
for the chicken
1 large free range chicken
1 lemon
1/2 bunch thyme
6 cloves garlic
olive oil
2 tbsp honey
sea salt
freshly grated mixed peppercorns
NOTE: you can do this with just chicken pieces, on or off the bone, in that case just arrange all the lemons, garlic and thyme around the meat (having covered it with honey, oil and seasonings) but you'll need to adjust cooking times.
for the wrap
tortilla wraps
good quality mayonnaise
ripe cherry tomatoes
sea salt and pepper
Preparation:
Slice the lemon and stuff the chicken with it, the thyme and whole, unpeeled garlic cloves.
Mix the honey with some olive oil, and rub it all over the chicken.
Sprinkle with salt and pepper. Bake in a roasting tin, covered with aluminium foil.
Chicken is best cooked at 190 C for 20 minutes per 450 g chicken, plus 15 minutes extra.
For the last 15 - 20 minutes, turn up the heat to 220 c and remove the foil, for crispy golden skin.
Once the chicken has been cooked, and it cooled to room temperature, chop the meat into chunky pieces and mix with just enough mayonnaise to cover the meat but not drown it. Season with salt and pepper to taste.
To assemble the wraps, briefly warm the tortilla in a heated skillet with no oil. Place the chicken mayo in the middle, garnish with halves of ripe cherry tomatoes, wrap and serve.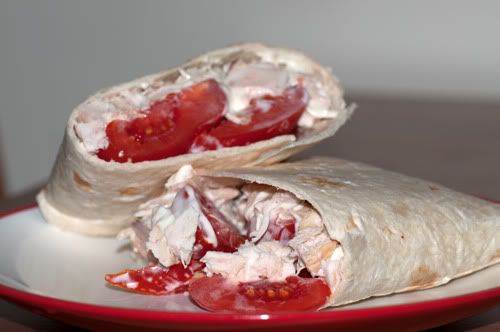 And if you wondered what the pumpkin looked like lit up, here it is :D