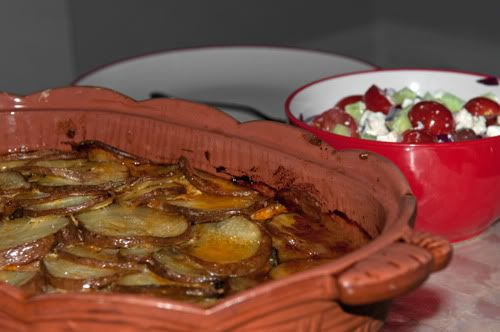 I still haven't had the chance to even start on my new project, simply, I've been too tired. And being a bit of a photographic perfectionist, now that I've decided to make some decent food pictures, everything has to be perfect, and that is just too much for me right now. But once I get my ass into gear (pardon my French) I should be able to do the bulk of it in a few sessions...
Have you ever found yourself wanting to do something so badly, and you have absolutely everything you need, except for the energy?
It's incredibly frustrating.
Oh since I'm whinging, I might as well complain about another thing. My cooking hob has set itself on fire and horrible people from the minuscule company that makes it haven't fixed it for 5 weeks now. So basically I have been cooking in the oven, on the outdoor barbecue and in the sandwich maker. Which is impossibly complicated, when you can't even boil an egg without firestarting in the back garden (not to even mention the rain!)
But I managed to make a moussaka, picture is old but the recipe is finally perfected, so I thought I'd share.
It's worth mentioning that the lamb mince sauce makes an excellent pasta sauce, so you can double up on the quantities and save a half for another meal, later in the week.
Ingredients:
1 kg potatoes (preferably with thin clean skins like new potatoes, Maris Piper etc)
2 aubergines
olive oil
500g lamb mince
70g pancetta
2 onions
2 cloves garlic
1 large carrot
2 400g cans of chopped tomatoes
1/3 bottle white wine
1/2 tsp cinnamon
salt, pepper
fresh thyme
200ml half fat creme fraiche
1 egg
Preparation:
First, slice the aubergines thinly, sprinkle with salt and a bit of olive oil and leave it to rest for 30 minutes or so. Grill on the barbecue or in a dry skillet until each slice is golden and soft.
To make the lamb sauce, chop the onions, carrots and garlic finely. First, sauté the onions in olive oil until translucent. Add pancetta and let it crisp up a bit. Then add the carrot and garlic and sauté some more. To it, add the thyme and mince and brown lightly. Add the tomatoes, wine, cinnamon and salt and pepper and cook on medium heat for about 30 minutes, until the sauce is reduced, glossy and thick. Check the seasoning, and if all is to your taste, let it cool down a bit.
Slice the potatoes thinly (like you would if making gratin).
I make my moussaka in a clay pot with the lid, I think it gives the best flavour, but any ovenproof dish with the lid will be fine.
Sprinkle the bottom of the pot with a bit of oil and arrange the potatoes in a single layer. Cover with half the lamb sauce. On top of that, arrange another layer of potato, then cover with aubergine slices and then the other half of lamb sauce.
Finish with a neatly arranged single layer of potato.
Cover and cook in a 180 C oven for 1 1/2 hours.
When the time is up, remove from the oven and pout a mix of creme fraiche and egg over the top of piping hot moussaka. Sprinkle some black pepper on top and return to the oven for another 30 minutes.
When it's done, allow it to cool for 20 minutes before serving.
NOTE: Moussaka is really nice served with some cold creme fraiche or Greek yoghurt, and green salad with balsamic vinegar vinaigrette or a simple Greek salad.
Bon appétit!