While I wait to get organised with my new food photography project, I wanted to post a few more recipes.
This is a really tasty, lovely lunch or a side dish, very "primavera" all year round :)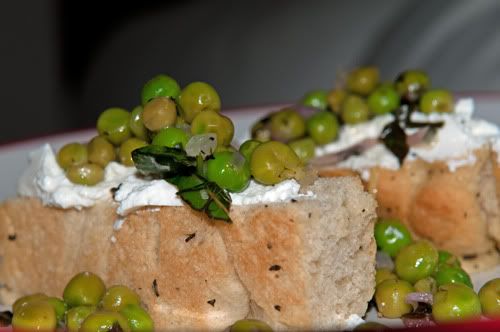 Ingredients:
1 focaccia or ciabatta or baguette
olive oil
1 cup ricotta
2 cups frozen peas
1 shallot
2 tbsp basil leaves
2 tbsp mint leaves
zest and juice of 1 lemon
salt and pepper to taste
Preparation:
Preheat the frying pan or grill. Brush slices of bread on both sides with olive oil and cook until golden on both sides.
In a separate pan, fry the finely sliced shallot in 2 tbsp of olive oil until translucent. Add the peas and sauté for a few minutes until warmed through and softened. Add lemon zest and juice and cook for another couple of minutes.
Remove from heat.
Add chopped herbs and mix well.
Spread the ricotta on pieces of grilled bread, and top with a couple of teaspoons of pea and herb mixture.
Serve warm.
Bon appétit!