Having always eaten beef mince, recently I have discovered a lamb burger. It's the more fragrant and posh burger I think, juicier and more mildly flavoured.
The cucumber salad is a variation on tarator salad and cucumber raita, Mediterranean style.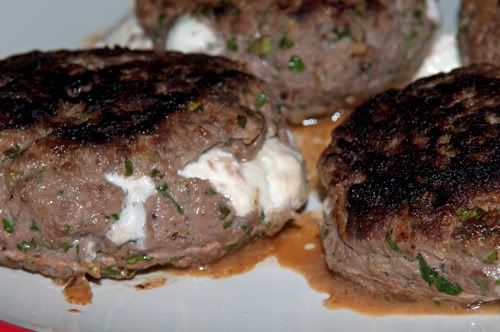 Ingredients:
for burgers:
500 g lamb mince
200 g fresh goat's cheese
1 shallot finely diced
1 clove garlic, minced
1 tbsp dried oregano
1/2 small bunch finely chopped mint (stalks discarded)
1/2 small bunch flat leaf parsley, finely chopped
1/2 tsp salt
black pepper
for cucumber salad
1 cucumber, grated
1 1/2 cup firm yoghurt (low fat Greek is great)
1-2 tbsp olive oil
1 large clove garlic
salt and pepper to taste
1 tbsp finely chopped mint leaves
to serve
6 pitta breads
finely sliced tomato, onion, lettuce
Preparation:
Put lamb, all the herbs, salt and pepper into a bowl and mix until combined. Divide into 4 equal portions. Using wet hands, make thick patties with a chunk of goat's cheese in the middle. Make sure all cheese is covered with meat.
Grill in a skillet or on the barbecue, depending on the thickness of the burger, 4-6 minutes per side, until cooked through.
Warm the pittas on the grill. When ready to serve, combine the meat, cucumber salad and slices of tomato, lettuce and onion in a pitta and enjoy while it's hot.
Bon appétit!