Since trying baked feta I've become a fan of warm cheese on crusty bread as an entree or a light lunch. Usually, they are baked over some tomatoes, but in this Nigel Slater recipe, all it takes is a few minutes in a hot pan.
Extremely tasty and lots of flavoursome olive oil to dip your bread into!
Serves 4 (entree)
Ingredients:
1 block firm feta cheese (200 g)
2 red chillies
2 spring onions
olive oil
thyme
Preparation:
Finely dice the chillies (deseeded if you want milder heat) and spring onions. Sauté in 2 tbsp olive oil on moderate heat until the vegetables become soft (do not brown them).
Sprinkle some thyme, stir and place a whole block of feta on top. Pour some chilli and onion with oil on top and allow it to warm through.
Serve warm with fresh crusty bread.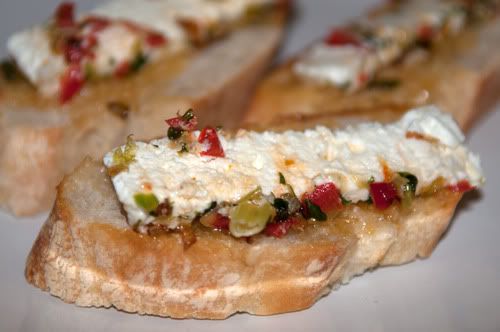 Bon appétit!