Mango salsa has been such a revelation to me. I never quite thought it would work, I am still somewhat resistant to the idea (if not the taste) of Far East, and mango, to me, is exotic and fruit, so in that sense, I was resistant to the idea of mango salsa.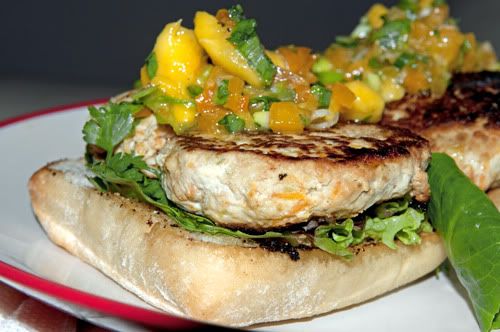 However, it has been one of the most exciting new flavours for me, in a long time.
It is hard to describe just how wonderful this meal is, so you'll juts have to try it :) But make sure you have perfectly ripe mangoes. We get ours from the Chinese shop, who get them imported from Pakistan. Apparently, it is the honey mango variety - fairly small and very soft and yellow, with sweetest, most fragrant flesh.
Chicken burgers go really well with the delicate flavour of mango salsa, and are generally a much lighter version of a classic burger, perfect for the summer!
Ingredients (serves 2-4)
for the burgers
500 g chicken mince
2 carrots
4 spring onions
1.5 tbsp green Thai curry paste
1 egg
1 tbsp groundnut oil (for frying)
for the salsa
flesh from 2 medium mangoes, cubed
1 orange pepper finely chopped
1/2 bunch spring onion finely sliced
2 tbsp oil
zest and juice of 1 orange
juice of 1 lime
2 tbsp chopped coriander
sea salt and black pepper to taste
to serve
green salad (rocket or spinach or whatever you fancy)
fresh and toasted ciabatta rolls
Preparation:
To make the burgers, mix the chicken, finely grated carrot, finely chopped spring onion and Thai green curry paste. Add the beaten egg and mix well using your hand.
Make 4 patties.
Heat a frying pan with 1 tbsp oil and grill the burgers for 3-4 minutes on each side, until golden and cooked through.
When finished, cut the ciabatta rolls in half, brush with oil and grill in the skillet for a minute or two, until warm and golden on the inside
To make the salsa, combine all the ingredients and mix with a spoon, seasoning to taste.
To serve, place some salad leaves on the bottom half of ciabatta roll, then the burger, then some salsa, and cover with top half of the roll.
Serve the remaining salsa with prawn crackers.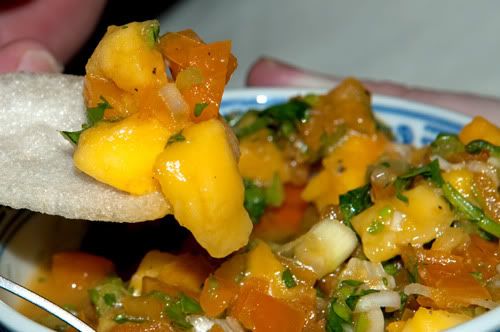 Bon appétit!