This is a perfect accompaniment to any
Middle Eastern
or North African dishes, especially the meats. Koftas or barbecue, even vegetable dishes go really well with this fragrant rice.
Ingredients
1 cup white jasmine rice
2 shallots
1 tbsp olive oil
1.5 cups water
sprinkle of dry dill
small handful mint leaves
salt to taste
To serve 4- 6 as a part of a bigger meal, I use a coffee mug for measure.
Grate the shallots and sauté them in a little oil until translucent. Add the rice, a pinch of salt and the water.
Bring to boil and immediately reduce the heat to a minimum. Cook covered for about 25 minutes, until all the liquid is absorbed and the rice is cooked.
Finely chop the mint and add, together with dill and a bit more salt (if necessary), to the rice.
Stir well and serve warm, perhaps with lamb koftas.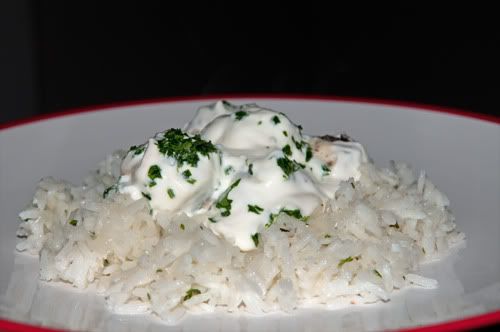 Bon appétit!