Cooking for a lot of people can be difficult, especially if you want to enjoy yourself while they are there.
I find that making a meal that has to be served hot takes a lot away from a party, for the hostess as well as for the guests. They came over to see you, but you want them to enjoy the food. Even if it's "just a barbecue" someone is stuck by the grill for hours.
That's why this is one of my favourite party options - all the dishes can be made in advance and are best served at room temperature, which means you can prepare them before everyone turns up and be free to enjoy your day.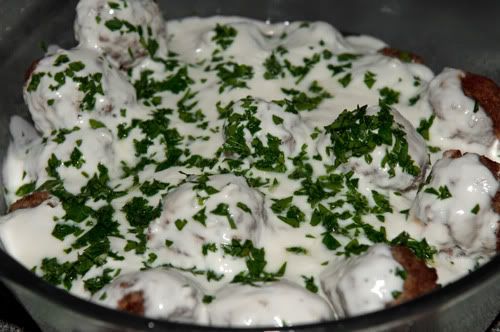 This time we had the following menu (clicking the links will take you to the respective recipes):
fresh cold watermelon for dessert
Ingredients
for koftas
500 mg lamb mince
2 shallots
3 cloves of garlic
generous handful of breadcrumbs
1 large egg
50 ml water
salt and pepper to taste
oil for frying
for yoghurt sauce
500 ml natural set yoghurt
2 cloves of garlic
pinch of salt
handful of parsley leaves
To make koftas, finely chop the shallots, finely grate or mince the garlic and mix in with lamb, salt and pepper, egg, breadcrumbs and water. The mixture should not be too thick or too runny, but just perfect to form soft koftas the size slightly smaller than a golf ball.
Heat about 1 inch of oil in a small skillet on medium high, and lower koftas, 10 at a time. Fry for about 3 minutes on each side until golden brown all over. Koftas cook rather quickly, so make sure you don't overcook them, because you want them to stay juicy and moist.
As each batch of koftas cooks, remove with a slotted spoon and let drain on absorbent kitchen paper.
Repeat until you use up all of the mixture.
To make the sauce, finely mince the garlic and chop the parsley.
Mix the garlic with yoghurt and salt, pour over the koftas and sprinkle with parsley. Keep covered in an ovenproof dish to make sure it stays moist and doesn't cool down too quickly, you want to serve it at a room temperature, with pilau rice and other accompaniments.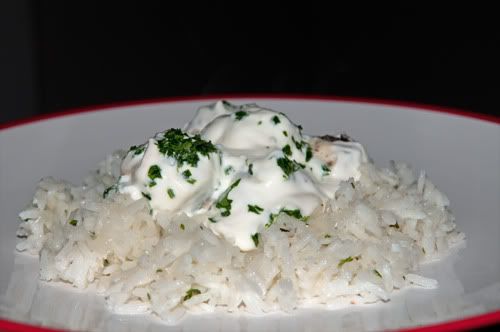 Bon appétit!