This is another classic dish I grew up with. Even though I haven't come across this anywhere I travelled, I am sure it is a derivative of dumpling-style dishes found all over Europe.
What makes this particular dumpling so special is the awesome combination with fresh plums, as well as the serving suggestion that includes cinnamon.
But knedle are an excellent dish on their own, and don't have to be served sweet at all.
It's really up to you to decide what you prefer.
Because this is a bit of a messy job, I usually make a large quantity and freeze lots to be conveniently enjoyed later. In fact, in my country, women used to make tons of knedle during damson season (everyone had a massive freezer on the balcony), freeze and eat them throughout winter.
Depending on the size and whether you are serving any main dishes beforehand, you'll need between 2 and 5 knedle per person.
I always freeze them in bags of 10, it's usually a good amount for most occasions.
This quantity will give you 30 knedle (each the size of 7 year old child's fist approximately) and another good amount of small gnocchi, enough for a main course.
Both gnocchi and knedle are excellent when frozen, just make them up, freeze (uncooked of course) on plates dusted with flour and when hard - portion up into freezer bags.
Ingredients:
1.5 kg potatoes (I use King Edward)
1 tsp salt
2 medium eggs
75 g butter
375g plain flour
3 tbsp fine semolina
8-10 large plums (cut in quarters) or 30 small - medium damsons
1/2 cup fine breadcrumbs
2 tbsp vegetable oil
to serve:
creme fraiche
sugar
cinnamon
Preparation:
Peel the potatoes and cut into 1 inch cubes. Add 1 tsp salt to a saucepan full of water, put potatoes in it and boil for about 20 minutes until potato is easily pierced with a fork but not overcooked.
When potatoes are done, drain them and mash. Add the butter and the eggs and mix well using an electric mixer. Allow it to cool to room temperature before adding the semolina and flour.
Mix well using dough hooks.
The dough will be relatively soft and sticky, that is ok. Just make sure the surface you are using is well floured, as well as your hands.
If using large plums, wash and halve them, remove the stone, then halve the halves and then halve the quarters, until you have a nice inch wide plum piece to use in your knedle.
If using damsons, just wash and dry them, no need to remove the stone (but beware when eating, you'll need to remove the stone from each one before you start eating).
Divide the dough into 4 equal portions. Using your hands, roll each portion on the surface into a long cylindrical shape, and cut into 7-10 equal parts (depending on the size of your plum, there should be enough dough to close over, but it shouldn't be too thick).
Flatten the dough in your hand, place the plum in the middle, close over and work briefly into a ball using your hands. Place on a dusted plate and repeat until you made all your knedle.
You can just use all the dough for this, or you can use the last quarter to roll it out thinly and cut small gnocchi out of it. Also just place them on a dusted plate and either cook immediately or freeze.
To cook knedle (fresh or from frozen) bring a large saucepan of water to boil and add knedle to it. Stir occasionally and wait until they all come to the top, and then let them simmer for a few more minutes. Remove them using a slotted spoon.
When you are done, using a much smaller saucepan, heat the oil and add breadcrumbs to it. Stir until breadcrumbs darken a little, then pour a little bit of the breadcrumb mix over each knedle.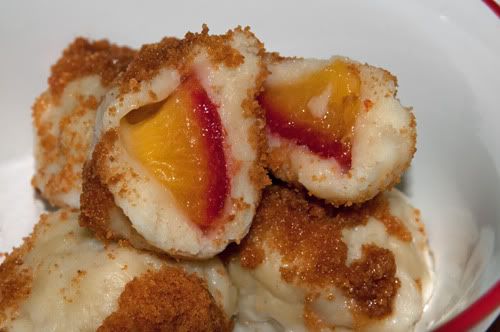 To serve, hot or cold, either eat as is, or cut in quarters, add a bit of creme fraiche, sugar and cinnamon, mix and eat.
Bon appétit!