This is my new lunchtime favourite, perfect for hot summer days and incredibly tasty, but also healthy and quick to prepare :)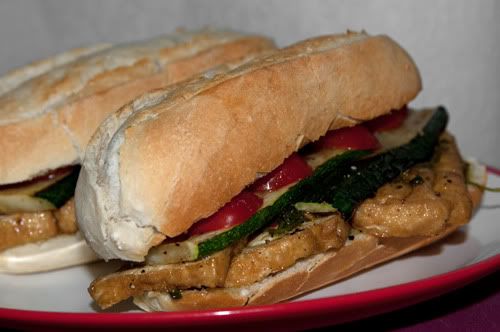 Makes 2
Ingredients
for sandwiches
1 large courgette (zucchini)
1 packet tofu (whichever variety you like)
2 bread rolls
6 cherry tomatoes
for coriander chutney
2 bunches coriander
2 chillies (red or green)
3 tbsp lemon juice
2 cm ginger
1 tsp salt
2 tsp cumin seeds
2 tsp olive oil
2 tsp muscovado sugar
Preparation
First, make the chutney. You'll end up with at least a couple of week's worth of this lovely condiment which you can store in the fridge, freeze, mix with yoghurt etc.
In the case of these sandwiches, this chutney )sauce really) gets liberally spread on the bread and tofu for extra kick and flavour.
Using mortar and pestle, or spice grinder, mix/blend everything except for coriander into a paste. Then, start adding finely chopped coriander, and keep blending until you get a wet chutney sauce.
To make the sandwiches, slice the tofu into thin slices. Slice courgette into thin slices. Grill in a hot skillet, on 1 tbsp olive oil, sprinkling each side with salt and pepper. Once golden, turn over, repeat seasoning and cook until golden on the other side.
Slice the tomatoes.
Cut the rolls in half and brush the inside with a bit of oil (unless if you have enough oil left over in the skillet). Grill the bread on the inside for a couple of minutes.
To assemble the sandwiches, spread some coriander chutney on the lower half of the bread, place some tofu, spread chutney on tofu, layer with courgettes and tomatoes and cover with the top half.
Eat warm.
Bon appétit!