This is a traditional Serbian dish that is served all over the Balkans. However, versions of this tasty meal can be found all over the world.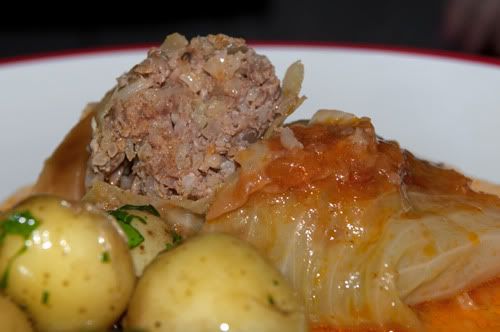 Usually, sarma is made from pickled whole cabbage heads, most of the time in winter or for large celebrations such as weddings, Christmas etc. However, there are many fresh cabbage versions, which are certainly easier for me to make since it is impossible to buy whole head of pickled cabbage in the UK and honestly, I can't be bothered to pickle my own. Also, this one is a lighter meal, sweet rather than tangy, and while I like both versions, I am becoming very fond of this particular one.
This recipe will give approximately 10-15 medium-sized sarmas (cabbage rolls) but if you need more, just double up the quantities.
Ingredients:
for sarma
1 medium (tight and fresh) head of green or white cabbage
500g beef mince
70g thin slices pancetta
1 very large (or 2 medium) onions
pinch of paprika (I use hot but you can use mild too)
6 tbsp jasmine rice (uncooked)
salt and black pepper to taste
1 egg
for tomato sauce
1 very large (or 2 medium) onions
2 tbsp olive oil
2 tbsp flour
1 vegetable stock cube
pinch of hot (or sweet) paprika
220 ml passata (smooth tomato puree)
approximately 1-1.5 l water
salt and pepper to taste
Preparation:
Preheat the oven to 180 C
Boil a large saucepan full of salted water. Wash the cabbage head and discard (if there are any) unclean or damaged leaves. Using a sharp knife, carefully cut out the central core from the bottom of the cabbage head. Drop the cabbage into the hot water and allow a few minutes for it to cook. Slowly start separating the leaves from the outside in. The leaves shouldn't be fully cooked, just slightly brighter in colour and somewhat softer than when they were raw. As the leaves reach the desired consistency, remove them one by one, with a fork, place them on a plate and let the remaining cabbage cook, repeating the process with separating the leaves. As each leaf is removed, let it cool for a few seconds and then using a sharp knife, remove the triangle of the thick core still present in the bottom middle of each leaf. You should end up with a roughly heart-shaped cabbage leaf that is perfect for wrapping.
Repeat the process with all the leaves, discarding the cut out core bits. You should end up with about 15 leaves of varying sizes and a handful of smallest leftover leaves.
To make a tomato sauce, peel and grate the onion(s). Heat up the oil and sauté the onions in it for a few minutes until it smells cooked. To it add flour and paprika, stir well and add passata. Add water and stock cube, stir well and bring to boil. Season to taste with salt and pepper, and set aside.
Finely chop the remaining onion(s) and pancetta. Add them to the beef mince, together with the rice, some salt, pepper, paprika and an egg. Mix well until you have a homogenous mix.
Place as much filling on each leaf as you can comfortably wrap (this will vary from a couple of tablespoons to under one tablespoon, depending on the size of the leaf). Start rolling away from you, then fold the corners, then finish each roll by rolling away from you again. Place wrapped rolls on a plate and continue, until all the mix is used up.
The rolls should be full but not be so overfilled that you can't close them.
Using an ovenproof dish (I use a clay cooking pot with a lid), pour about a ladle full of tomato sauce on the bottom, and then arrange the rolls tightly along the bottom and on top of each other. Fill the gaps with the leftover cabbage (if you have large leaves left over, cut them into strips).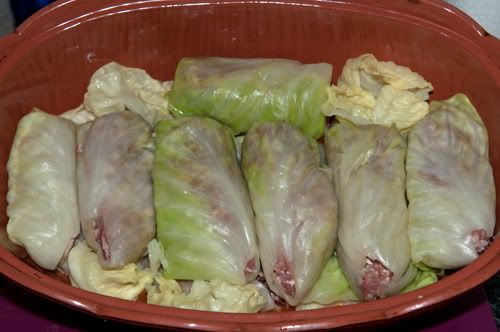 Pour the rest of the sauce in, making sure it goes all between the cabbage rolls and that there is enough liquid to almost completely cover them. You need all the liquid to cook the sarma, to have enough sauce left over for serving, keeping in mind that the rice will "drink up" some of it too.
Cook in the oven, covered for 2 hours. After the first hour, remove from the oven and base the top rolls with some sauce, cover and put back into the oven. When sarma is done, spoon some of the sauce on the top rolls again to moisten them.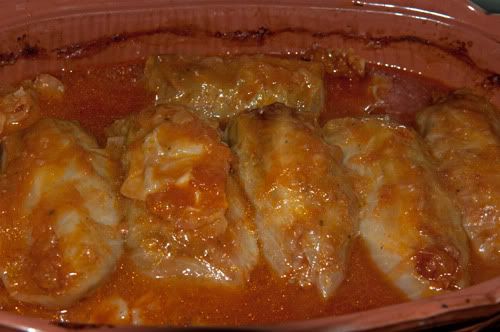 Serve warm with your favourite potato or just as is. I like them with boiled baby potatoes with a little bit of butter and some fresh chopped parsley.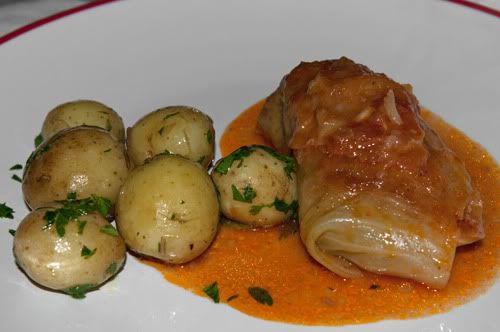 NOTE: since you'll end up with a lot of food, you can keep it in the fridge for up to 5 days and reheat as needed, or freeze portions of cooked sarma for easy lunches later in the month.
Bon appétit!