Tea smoked salmon has been an absolute revelation to me. I can safely say that I have never tried better sandwich meat, as this is so much tastier even than the best prosciutto!
I have never been a big fan of smoked salmon, but there is something about the gentle smoky flavour of Lapsang Sochuong tea that completely neutralises the fishy smell and taste. I have bought this, but if you are doing it yourself, make sure you make a rub made of demerera sugar and sea salt, to balance the flavours.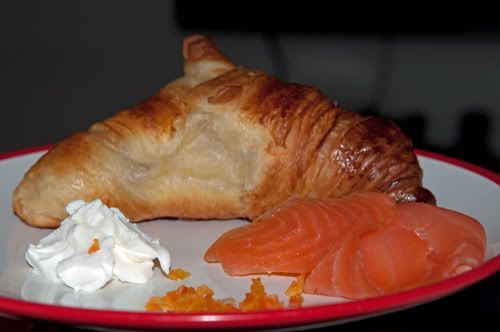 There is really nothing to making this dish if you already have your salmon ready cut in thin slices.
All you need is:
6 freshly baked croissants
a dollop of cream cheese (Philadelphia, mascarpone or whatever you like)
100g tea smoked salmon slices
2 small orange or green chillies, seeds removed and chopped finely
a small handful of finely chopped chives (optional, or instead of chilli)
Preparation - simply assemble as you like!
Bon appétit!