Banana cake is one of those desserts that are versatile and easy to make, as well as really convenient if you feel bad about throwing away bananas which are past their best.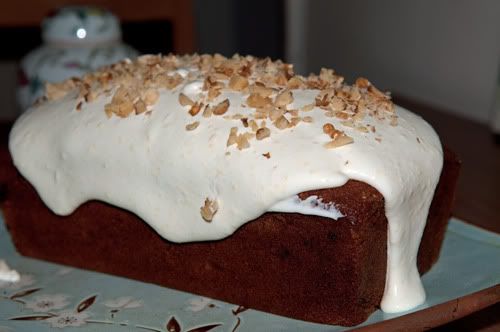 Bananas to me are the fruit I like to think I really want to eat. And I do like them, they are incredibly tasty, but somehow, I find them too heavy. I always think I'm going to eat one as a light breakfast, it really is such an easy way out to not be too hungry in the morning, but I rarely do.
In terms of fruit salads, I got used to not putting them in, but rather chopping half a banana into fruit salad just before serving, because if they are chopped and salad is stored in the fridge, bananas really don't handle it well and they ruin the salad for the next day. So in all that, most of the time, I simply forget to add them before serving,
Perhaps I most like them right after I've exercised, which makes sense because they have a lot of vitamins, minerals and intermediate sugars, all of which work really well in that 30 minute period after exercise when they say you should eat something to boost up the metabolism and help the body recover.
So, bananas are great food, but in my house, they often go past their prime, without being eaten.
Banana bread you can make as sweet as you like, by adding the icing on top. Without it, it is almost like moist and fragrant bread and works really well with peanut butter.
I always add some chopped walnuts for added crunch, and I use additional baking powder and salt. I found that this way I get best risen and moist cake, perhaps because I use nuts in the recipe so the dough needs an additional "lift".
Most of the time I use a bit of soft cheese icing on top, which makes this banana bread a definite dessert item, perfect with a cup of tea or coffee.
Ingredients:
for banana bread
230 g (approximately 2 cups) self-raising flour
1 1/2 tsp baking powder
1/8 tsp salt
115g butter
170g sugar
2 large eggs
splash of vanilla extract
3-4 bananas (depending on the size and whether you need to cut off bits of flesh that went brown)
a handful of chopped walnuts (around 100g)
for icing
1 small pack (200g) light cream cheese
1-2 cups icing sugar (depends how you like it)
a splash of vanilla extract
chopped walnut for sprinkling
(NOTE: most recipes use butter in this kind of icing, but I like mine soft and not heavy, also this way it pours beautifully and retains the tanginess which is more to my taste)
Preparation:
Preheat the oven to 180 C and grease a loaf tin with a bit of butter.
Mash the bananas with a fork and chop the walnuts coarsely.
Cream the butter and sugar together using a paddle attachment on your mixer, and then add the eggs. When all is mixed well, add the bananas and the vanilla, and then the dry ingredients (flour, baking powder and salt). When it's all nicely combined, fold in the walnuts.
Pour the batter into the tin and bake at 180 C for 40 minutes. Then lower the temperature to 150 C and bake for further 30 minutes.
Allow it to cool.
To make the icing, simply mix (with a very slow speed on the mixer or better yet, using a wooden spoon) the icing sugar, vanilla and cream cheese.
When cake is cool, spoon the icing over the top of the leaf and sprinkle with walnuts.
Cut into slices and serve.
Bon appétit!