I have always wanted to try making a meringue pie. It looks so pretty, with the clouds of baked meringue on top, but it looked so complicated!
But when I found this recipe that combines bananas with meringue, I decided to try it.
I think the trick here is to not make your pastry case too deep. This cake is delicious but very heavy, so a shallow base with just a little bit of bananas and custard balances the light meringue beautifully.
NOTE: I am lazy, so I buy sweet pastry case from Waitrose. But the pastry recipe is always very straightforward, all you need is a suitable pastry baking pan to make it all pretty for filling.
Ingredients:
for the pastry
225g plain flour
115g butter
55g caster sugar
1 egg yolk
2 tbsp cold water
for the banana filling
NOTE: if you are making deep pie, double the quantities for the banana fill
3 bananas (depending on how deep you want the pastry case to be)
30g butter
30g muscovado sugar
juice from 1/2 lemon
for the custard
1 egg
3 egg yolks
55 caster sugar
225ml double cream
a splash of vanilla extract
for the meringue
3 egg whites
115g caster sugar
Preparation:
pastry case:
Preheat the oven to 200 C
Place the flour into the bowl, then rub in the butter until the mixture looks like a crumble. Add sugar, egg and water. Mix a little as possible, but make sure the dough forms.
Roll the dough out (about 0.5 cm thick) and line a wide and shallow tart tin. Line the pastry with greaseproof paper and weigh down with some dry rice or beans. Bake for about 15-20 minutes, yntil the base is dry. Remove and allow to cool.
banana filling:
Peel and slice the bananas. Melt the butter in a frying pan, and add bananas to it. Cook until golden brown on both sides. Sprinkle sugar and lemon juice over it and let it cook for couple more minutes, until all sugar is dissolved.
custard:
Mix the egg, egg yolks and sugar until light and fluffy. In a saucepan, heat the cream and vanilla until almost boiling. add the egg mixture and wish for a minute or so, until you get a fluffy, thickened custard.
To assemble the pie:
Line the pie case with bananas and pour the custard over it. Fill it to the top, but don't let it spill over (you might not end up using all of the custard).
Bake in the oven at 200 C for about 30 minutes. Set aside and allow it to cool to room temperature.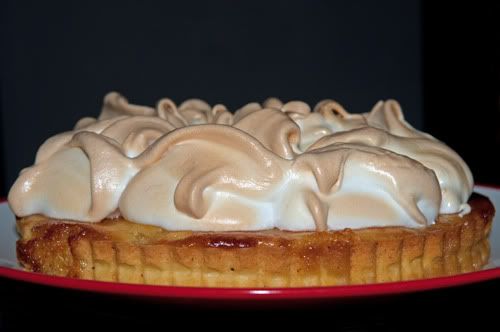 meringue:
Whisk egg whites until very soft peaks form. Start adding the sugar gradually, until you get smooth, silky thick meringue.
Spoon it over the cool banana pie.
Turn down the oven to 180 C and bake the meringue pie for 15 minutes until meringue peaks are golden and cooked through.
Let it cool and serve.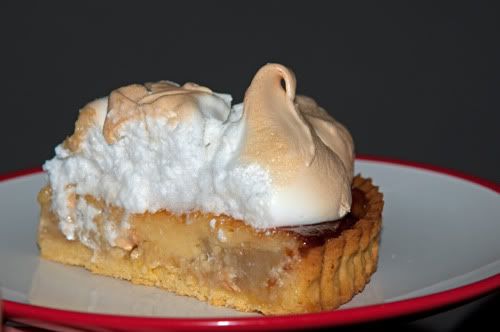 Bon appétit!