This is another really quick and easy mid-week dish, full of flavour and high quality nutrients.
As most of my Chinese cooking, this one is also a modification of Ching-He Huang recipe. Mainly because I am a recent convert to fish (having spend most of my life not eating any seafood) I am still not keen on fish skin and I like my fish in bite-sized pieces.
Ingredients:
500 g cod fillets
(I buy all my fish skinless and frozen from Waitrose, it is really the bet you can get apart from early morning high quality fresh fish from the fish market)
for marinade
2 tbsp chilli bean paste
2 tsp freshly grated ginger root
for cooking
2 tbsp groundnut oil
1 tbsp Shaohsing rice wine
1 tbsp light soy sauce
salt and pepper
for garnish
small handful of chopped fresh coriander
lemon wedges
Preparation:
Rinse and dry the fish on absorbent kitchen paper. Cut the fish into chunky pieces and rub chilli bean paste and ginger into it and leave to marinade for 10 minutes.
Heat the wok, skillet or griddle pan to high heat and add goundnut oil. When the oil starts to smoke, gently place the fish into the pan and cook for a couple of minutes. As the flesh turns opaque, pour the rice wine over it and cook for further 2-3 minutes, until fish is firm to touch.
Season with soy sauce and salt and pepper to taste.
Garnish with chopped coriander and lemon wedges and serve immediately with
EXOTOC MUSHROOM PAK CHOY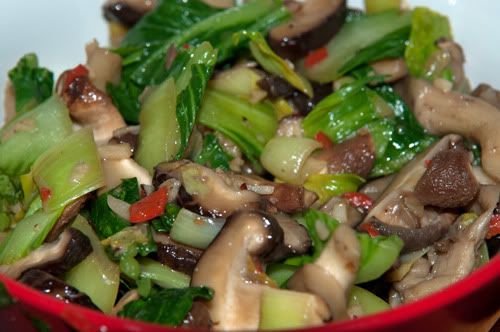 Ingredients:
200g pak choy
200g mixed mushrooms (oyster, fresh shiitake etc)
3 garlic cloves finely chopped
1 medium red chilli, deseeded and finely chopped
1 tbsp groundnut oil
Preparation:
Wash the pak choy, separate the stems and leaves and slice into chunks.
Wash and slice the mushrooms into bite-sized pieces.
Heat the oil in the wok until starts to smoke, then add garlic and chilli and stir-fry for a few seconds. Add pak choy stems and a small dash of water to create steam, and stir-fry for 1 minute.
Add the pak choy leaves and mushrooms and stir-fry on high heat for further 1-2 minutes.
Season with a pinch of salt and serve immediately.
Bon appétit!