This is a recipe my mum used to make when we were growing up. Veal is very big in our country, and after I found out how poor veal was treated, I stopped eating it.
Well, now we have different veal - the one that is properly fed and free range, so the meat is slightly tougher but still very tasty and certainly much more gentle taste than mature beef.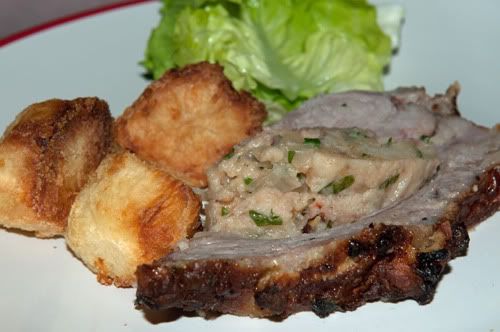 It is not easy to obtain veal breast in UK - most butchers are not very familiar with this cut and it is important to get a properly butchered cut. It should be whole breast, but kept in one piece and all the connective tissue carefully removed except the middle that connects the two sides. This is very important, because unless this is done properly, you will not get the yummi, lean, soft cut.
This makes this dish pretty expensive, because from the original 2kg you'll probably end up with just over 1kg, but it is more than enough for a big family lunch.
Ingredients
approx 1kg lean veal breast, all in one thin sheet
4 slices of white bread
milk
1 egg
a handful of parsley
200g pancetta
2 medium onions
salt and pepper
vegetable oil
wooden skewers or toothpicks
Preparation:
Preheat the oven to 200 C
Rub some salt into both sides of prepared veal breast and set aside.
Tear the bread into chunks and cover with milk. Let it soak for a few minutes.
Place the cubes of pancetta into a large skillet and allow to brown. This will give you enough fat to fry the onions. Add the onions and cook together until soft and translucent.
Using your hands, grab handfulls of bread and slowly squeeze all the milk out. Repeat until you have drained all the bread.
Add the pancetta and onion, egg and then finely chopped parsley. Season with a little salt and pepper and mix well until you get a homogenous stuffing mixture.
Depending on the shape and size, you can either place the stuffing in the middle of the veal breast, pick up the sides and close it with toothpicks/wooden skewers, or you can create a "bag" by first "sawing" the edges with toothpicks, leaving one side open, then stuff it with the stuffing mix and close the remaining edge when you are done.
Place the stuffed veal breast into a roasting dish and sprinkle with some vegetable oil.
Bake in the oven for 1 - 1.5 hours, until the meat reaches internal temperature of 71 C (this can be checked with a meat thermometer).
Alternatively, bake for prescribed amount of time until the juices run clear and the meat is golden brown.
Allow it to rest for 15 minutes, then cut in slices
and serve with
ROAST POTATOES
Roasties are very easy to make and go with any kind of roast meat dish.
The most important thing is that they are crunchy on the outside and soft on the inside.
Ingredients:
5 large potatoes
salt, vegetable oil
tablespoon of fine semolina
Preparation:
Peel and wash the potatoes, then cut them in quarters (the pieces need to be big).
Boil in hot water for about 10 minutes, until just soft enough to pierce them with a fork, without falling apart.
Drain and place into a roasting dish.
Sprinkle with salt, oil and semolina and mix to coat all the potatoes evenly.
Bake in the hot oven for 1 - 1.5 hours, until golden and crispy on the outside and soft on the inside.
Bon appétit!