Occasionally, one must do something entirely selfless, sacrifice is important in a relationship and this recipe was my sacrifice on the altar of old habits, in order to please my husband, who really is a total sweetheart.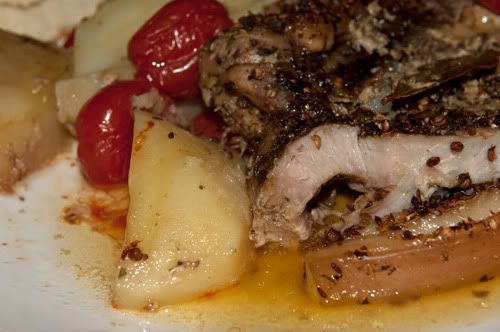 Yesterday it was his last day of a short holiday and today - the first day as a Partner at his medical practice. It is a big deal for a young doctor to get this kind of seniority, and he is so good and dedicated as well as humbled and excited about it that I sort of felt like I was sending him off for his first day of school :D
But it is quite true that occasionally yielding to these kinds of pleasures won't do anyone any harm so it was done - pork cooked Balkan style! And omg, it tasted incredibly good.
In the heart of my typical Englishman/Welshman/Irishman beats a heart of a Balkan guy. It's hard to imagine but it's true, he adores food from my homeland, especially meat, fish and cakes, in fact he is the happiest when my grandma cooks a meal for us, you know the old-style slow cooking with lots of flavours and oils and generally the stuff I simply don't have patience for.
Well, this dish is actually quite easy to put together, the hardest part is the excrutiating 2 hour wait until it's cooked, and the whole time you can smell it and your stomach rumbles and rumbles... But it's well worth it.
There are so many variations of this recipe, you can use lamb, veal, beef, pork, even fish or octopus, various vegetables like aubergine, onions, peppers, tomatoes, but the essentials of meat-garlic-potatoes-olive oil-herbs-slow cooking is what all these have in common. So feel free to experiment but remember the basics and you'll always end up with most delicious of dinners.
Ingredients
4 organic pork chops (fat on but don't eat it, it's just to add to the flavours)
4 medium potatoes
1 punnet of small, ripe tomatoes (like cherry or my winter favourite - pome dei moro)
1 whole head of garlic
1 tbsp coriander seed
1 tsp cumin seed
2 tsp oregano
1 tsp thyme
olive oil
2 lemons
coarse sea salt and black pepper
Preparation
First, marinade the pork chops in a juice of one lemon, for about 1 hour (or longer if you wish).
Preheat the oven to 180 C
Peel the potatoes and quarter them. Also peel the garlic cloves but leave them whole.
Roast the coriander seeds and cumin in a dry pan until you can smell intense herb smell. Place them in a pestle and mortar or a spice grinder and grind them as finely as you want (I am usually not very patient so I leave them quite coarse).
Mix this with all other dry herbs and rub the mixture into both sides of each pork chop.
First arrange the chops around the roasting tray. Then place potatoes around and underneath the chops. Then put fresh tomatoes all around, on top and underneath, and do the same with the garlic cloves. Pour some olive oil on top (as much as you feel comfortable with) and generously season with salt and pepper and another good squeeze of fresh lemon.
Cover with aluminium foil and bake in the oven for 2 hours.
Serve immediately with pitta bread and greek salad, or just as it is.
Bon appétit!