I was very excited to try this and I have to say - this is in my opinion much better than traditional English version. I love the chunks instead of whole large fish pieces, it is much less oily due to crunchy-style batter and has really nice, fresh and slightly spicy taste.
This is another Ching's recipe from "Chinese Food in Minutes" show, and it really doesn't take long to make at all.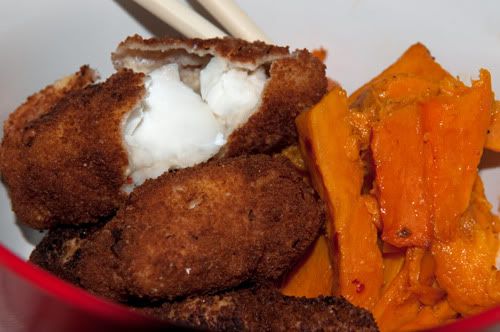 BREADED FISH
Ingredients:
350g haddock and/or cod fillets, skinless, cut into chunks
for the marinade:
2 tbsp Shaoshing rice wine
1 tbsp peeled and grated fresh ginger
1 spring onion finely chopped
for the breadcrumb coating:
100g plain flour
2 eggs, beaten
120g breadcrumbs
salt and white pepper
1 tbsp crushed dry chilli flakes
for the gong bao dipping sauce
2
tbsp lemon juice
2 tbsp hoi sin sauce
1 tbsp dark soy sauce
1 tsp crushed dried chilli flakes
1 tsp brown muscovado sugar
Preparation:
Mix the marinade ingredients and coat fish chunks in it. Leave to marinade for 20 minutes.
Place flour, eggs and breadcrumbs into 3 separate bowls. Add chilli flakes, salt and pepper to the breadcrumbs and mix well.
Heat enough peanut oil for deep frying (about 2 cm) in a deep frying pan of a small diameter until hot enough to brown the breadcrumbs in 15 seconds (this is how you test it).
Carefully coat the fish first in flour, then egg then breadcrumbs, and lower it gently into the hot oil. Fry in batches, until each piece is golden brown, approximately 2-4 minutes, depending on the size of the piece.
Remove with slotted spoon and drain on absorbent kitchen paper.
Repeat until all the fish is fried.
To make the sauce, heat all the ingredients in a small pan until warmed through. The sauce will be thick but still runny and it should taste slightly spicy, sour and sweet. Pour into a small dipping bowl and serve with the fish.
SWEET POTATO CHIPS
500 g organic sweet potatoes
2-3 tbsp peanut oil
salt, pepper
1 tsp crushed dried chilli flakes
a sprinkle of cayenne pepper (or paprika powder)
Preparation:
Preheat the oven to 180 C
Wash the sweet potato (if it is fresh and organic, you can leave the skin on), dry it and cut into chunky chips.
Sprinkle with oil, salt, pepper, chilli and paprika. Mix well to coat all the pieces.
Spread thinly on the baking sheet and bake for 20 - 30 minutes.
Serve immediately with the breaded fish.
Bon appétit!