This is one of the simplest recipes to make - if you have ready made Thai red curry paste.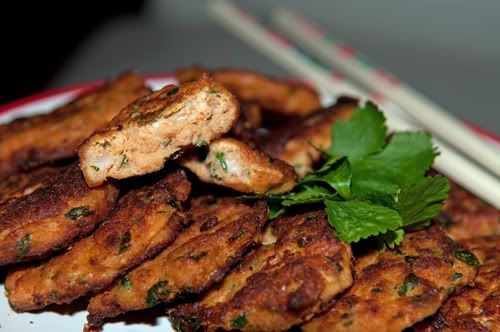 And since there are so many fabulous authentic ones available to buy, I always use the ready made ones. I made my own once, and it took ages, and believe or not it was no better than the one I normally buy from my asian supermarket.
So just do yourself a favour and buy a jar of thai red curry paste so you can enjoy this wonderful entree in minutes :)
Ingredients: (makes about 15 small fish cakes)
300g skinless cod fillets (or any other mild white fish, like red snapper etc)
1 heaped teaspoon red thai curry paste
2 kaffir lime leaves (fresh or dried) shredded
1 tbsp thai fish sauce
1 egg
1 tbsp corn flour
1 heaped tbsp fresh coriander
groundnut oil for shallow frying
Preparation:
Cut the fish into pieces and put in the food processor. Add curry paste, kaffir lime leaves, egg, cornflour, fish sauce and chopped coriander. Blitz until all is well mixed into a smooth paste.
It will be very wet but you'll be surprised how you can still make little cakes out of it that hold shape.
Heat up the oil in a large skillet. Using wet hands, gently make small cakes and carefully drop into the skillet. Fry on one side for about 3 minutes, than turn over and fry until the other side is also golden brown.
Drain on absorbant kitchen paper and serve with sweet chilli dipping sauce.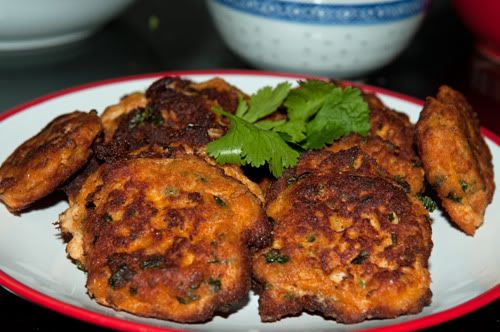 Bon appétit!