I have never made anything with soy beans before so this I was keen to try. As with the rest of Ching-Hu Huang's recipes, it did not dissappoint. In fact, this is pretty awesome and has joined my folder of favourite recipes.
We ate it with
quick hot and sour noodle soup
as a starter and
egg fried rice
and it was incredibly filling and satisfying.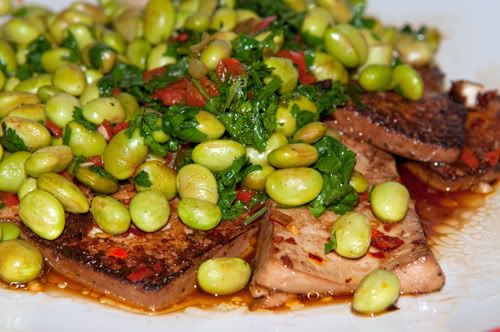 I must say that I was surprised at the taste of soy beans - even though they look so vivid, their taste is neutral, nutty and mellow which makes it a perfect companion to tofu. Also, yet again I am impressed with a beautiful balance that has been achieved between salty, sour, sweet and hot. I thought the dish might be too "vinegary" because there is quite a bit of vinegar on bot the tofu and the beans, but that was not the case at all! The final taste was simply perfect. And I was really happy with the prawns in the rice, although I am sure veggie version would have been great too, I quite liked a little bit of sweet shrimp thrown in the mixture, and the pink went so well with green too :)
Ingredients:
for tofu stir fry
2 tbsp groundnut oil
1 pack (approx 400g) fresh tofu
3 tbsp light soy sauce
1 tsp dark soy sauce
1 tbsp Chinkiang black rice vinegar
1 tsp dried chilli flakes
for the soy bean stir fry
1 tbsp groundnut oil
1 red chilli
100g frozen edamame (soy) beans
1 tsp light soy sauce
1 tsp Chinkiang black rice vinegar
1 large handful fresh coriander
Preparation:
tofu stir fry
Cut the tofu in 1cm thick rectangles. Heat the oil in a large flat skillet and fry the tofu on one side only for about 2 minutes. Be vary gentle and careful, try not to break up the tofu (you'll break some, but try to keep it together as much as possible ;) )
Sprinkle light soy sauce over it and cook until the liquid has reduced and tofu has browned on one side. Using a small flat knife or flat spoon, carefully flip over the tofu and cook to brown the other side.
Add dark soy sauce and vinegar and cook until reduces by half. Sprinkle chilli flakes over it and tranfer tofu onto a serving late.
edamame stir fry
Heat the skillet with groundnut oil and when hot, stir fry finely chopped chilli for a few seconds, then add frozen edamame beans and a splash of water to create steam. Cover and let cook for 2-3 minutes. Taste the beans - they should be defrosted but hot, still crunchy as you chew them and should not taste raw - that means they are perfectly cooked.
Season with light soy sauce and vinegar and then add the chopped coriander.
Toss together and pour over the tofu.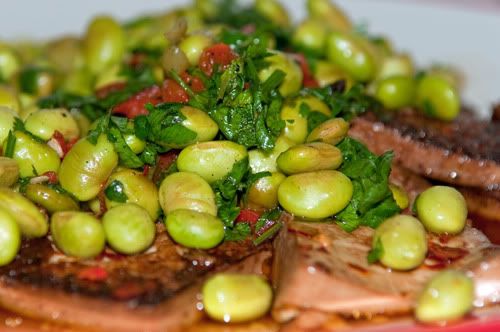 Serve immediately with rice of your choice.
Bon appétit!