I love wontons! Whether they are crispy and fried, boiled or steamed, served in soups or with various sauces, as starters or main dish, they are the most delightful little bite-sized pieces of chinese-style ravioli, but so much tastier and more fragrant than anything you can get from your typical Mediterranean cuisine. Ok this is just my personal opinion, but I really love wontons :D
Usually I'd eat them just dipped in soy sauce, but this recipe uses two really awesome sauces, one based on chilli oil and the other on soy sauce and vinegar, and the two truly becomes a heavenly combination when poured over a bowl full of steaming wontons.
Another good thing about wontons is that, assuming you aren't a glutton for punishment and you actually bought ready-made wonton wrappers, you get 35 - 40 wontons from one packet, which is either enough for a starter for 4-6 people or alternatively, you can use what you need and freeze the rest. The joy of having a few little bags of frozen, home-made wontons in your freezer is immense, because that's a really easy and special meal right there.
I have only eaten meat-based wontons and have no idea whether you can make a veggie one, I suspect not because I never came accross such a recipe, but you can certainly omit the pork and just use more prawn, but I think some kind of meat is a must in this one.
Anyway, enough chit-chat (had to pause with writing this and go warm up some soup, just looking at these pictures made the fact I haven't had breakfast or lunch yet absolutely unbearable!), here's another one of Ching's awesome recipes that were entirely successful first time I made them :D
Ingredients
for wontons
1 pack wonton wrappers (approx 35 in a packet)
1 egg, beaten
200g minced organic pork
200g raw, ready to cook king prawns
1 large spring onion, finely chopped
1 tbsp grated fresh ginger
1 tbsp light soy sauce
1 tbsp Shaohsing rice wine
1 tsp toasted sesame oil
2 tsp corn flour
pinch of ground white pepper
for sesame vinegar soy sauce
2 tbsp light soy sauce
2 tbsp clear rice vinegar
2 tbsp toasted sesame oil
1 tsp toasted sesame seeds
for Sichuan chilli sauce
3 tbsp chilli oil
1 tbsp light soy sauce
1 tsp dry-roasted Sichuan peppercorns, ground
1 tsp sweet chilli sauce
for garnish
a handful of roughly chopped coriander
1 spring onion, finely chopped
Preparation:
wontons:
Simply place all the ingredients into a food processor and blitz a few times until combined.
Alternatively, chop the prawns finely and mix everything with a spoon.
Place one full teaspoon onto each wonton wrapper. Then, using a pastry brush (or fingertips) brush some of the beaten egg along the edges of each wonton wrapper. Take it into your hands and bring all 4 corners (opposites first) together and twist to get a neat package closed on top.
Repeat the process until all wrappers and filling are used.
Boil a saucepan full of hot water, as if you are making pasta. Place wontons into gently simmering water and cook for 5 minutes or so, until all float to the surface and the wonton wrapper becomes delicate and almost see-through. Test whether the filling is cooked, but usually it will be. If you are cooking from frozen, extend cooking time to 8 - 10 minutes.
Remove the wontons from the saucepan using slotted spoon.
Place wontons into a deep serving dish and pour 2-3 tablespoons of wonton cooking water over them to keep them moist and also this will dilute sauces that will be pored over, so it will all make a lovely sauce.
sesame, vinegar, soy sauce:
Dry-roast the sesame seeds and add to the mix of all other ingredients.
Sichuan chilli sauce:
Dry-roast the Sichuan peppercorns and grind them using mortar and pestle or using spice grinder. Add to all other ingredients and mix well.
To serve, drizzle some of the chilli sauce all over the wontons, followed by the sesame, vinegar soy sauce, then sprinkle the coriander and spring onion, gently toss and serve.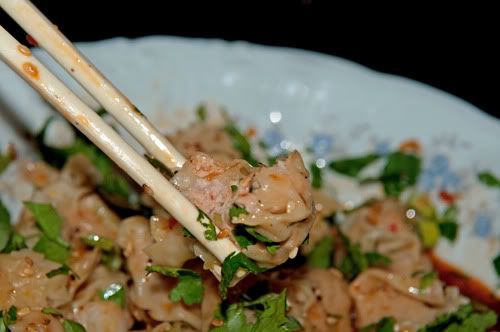 Bon appétit!