I haven't been able to find wonton skins in any of my ordinary supermarkets and also haven't been able to make a trip to the Chinese supermarket, but I've been craving hot and sour soup, and this one comes with noodles so it's simply perfect!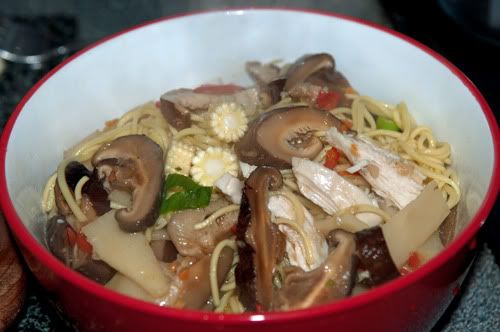 I am now officially obsessed with dried shiitake mushrooms. I am so in love that I feel feel like writing a poem to them. You may think I'm crazy, but then you haven't tried them yet. I always used to use fresh shiitakes, and found them yummi but very mild in flavour. Little did I know just how earthy and full of flavour the dried ones are! All you need to do is to soak them in hot water for about 30 minutes, slice and add to whatever meal you are making. So good...
Needless to say, this is another brilliant recipe from Ching-He Huang.
Ingredients (serves 2)
for the soup
1 tbsp groundnut oil
1 handful dried shiitake (or any Chinese) mushrooms
2.5 cm fresh root ginger
1 red chilli
1 tbsp Shaohsing wine
1 tbsp light soy sauce
1 tbsp dark soy sauce
1 tbsp Chinkiang black rice vinegar
700 ml vegetable stock (fresh or from cube)
1 small pack bamboo shoots
1 tbsp cornflour blended with 2 tbsp water
pinch of white pepper
to serve
200g cooked thin egg noodles
8 fresh baby corn
1 spring onion 100g shredded cooked chicken (or tofu if vegetarian)
handful of beansprouts (optional, I didn't have any this time)
1 cooked and shredded chicken breast
Preparation
Cook the chicken in water with one cube veggie stock. It will take about 20 minutes. When coked, set aside to be shredded prior to serving.
Soak the mushrooms in hot water for 30 minutes. Then drain, remove stalks and slice.
Cook egg noodles in boiling water for 3-4 minutes until cooked aldente. Drain and set aside.
Heat the wok with some groundnut oil. Slice or finely grate the ginger, finely chop the chillies and stir fry together for 30 seconds. Add sliced mushrooms and stir fry for another minute. Add Shaohsing wine, dark and light soy sauce and black rice vinegar. Stir before adding the vegetable stock. Bring to boil and add cornflour and water. Stir until it thickens (about a minute). Remove from the heat.
Wash and drain bean sprouts. Finely slice the spring onion and chop baby corn into bite sized pieces. Shred the cooked chicken breast.
In serving bowls, place noodles first, then chicken, vegetables and pout half the soup in each bowl.
Stir and serve immediately.
Bon appétit!