This Chinese imperial dish is delightful because not only is it really tasty but it is also very light (by European standards).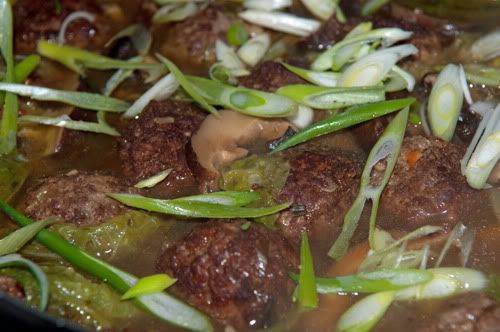 I'm used to having meatballs drenched in tomato sauce and served with pasta and that is simply a really heavy meal. But this is to me even tastier than a classic Italian meatballs, and so much lighter because it is cooked and served in a clear yet really tasty broth.
And the meatballs are so complex and yummi in flavour but also they cook really neatly and don't fall apart, without using any cheese or breadcrumbs, which also I think adds to the flavour as well as the visual appeal of this dish.
Ingredients:
for the meatballs
500g lean organic beef mince
4 garlic cloves, finely chopped
2 tbsp freshly grated root ginger
2 spring onions, finely chopped
1/2 tsp salt
50ml Shaohsing rice wine
2 tbsp light soy sauce
1 tbsp toasted sesame oil
1 egg, beaten
1 tbsp cornflour
pinch of ground white pepper
for the broth:
1 chinese cabbage, quartered and only leafy strips cut off
750 ml vegetable stock (I make this from 2 organic veggie stock cubes, but you can use the real thing too)
groundnut oil
(about 100 ml for frying the meatballs first, and then only 1-2 tbsp for actual sauce)
a handful dried Shiitake or Chinese mushrooms (pre-soaked in boiling water and then sliced)
1 tbsp light soy sauce
1 tbsp cornflour blended with 2 tbsp cold water
for garnish:
2 large spring onions, sliced diagonally
Preparation:
Simply place all the ingredients into a bowl and mix with a spoon (move the spoon in one direction only, I don't know why this is but that's what I've been told and it turned out beautifully so just do it :))
Preheat the oil until it is smoking hot. This is important because when you fry in extremely hot oil, food seals immediately and does not drink up the oil, whereas if you fry in medium hot oil, you'll end up with a really oily food, even after you drain it in the kitchen paper.
So, using your hands,fashion small meatballs, probably the size of a golf ball or a bit bigger, until you use up all the mixture. They'll be soft and wet but will keep their shape. Drop them gently into hot oil and fry for 4-5 minutes, turning them and ensuring they get nice brown colour all over. Remove with slotted spoon and drain on kitchen paper. Repeat until all the meatballs are cooked.
Take a large deep skillet and put 2 tbsp of the oil used for frying (discard the rest). Add stock to the pan. wrap each meatball in a strip of chinese cabbage and arrange in a pan like so.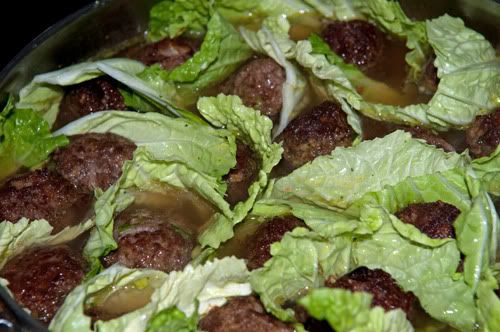 Add the sliced mushrooms and soy sauce and bring to boil, then reduce the heat to gentle simmer, cover and cook for about 15 minutes.
As the cabbage cooks, it will surround the meatballs resembling lion's mane - hence the name.
Remove from the heat, garnish with sliced spring onion and serve with steamed jasmine rice.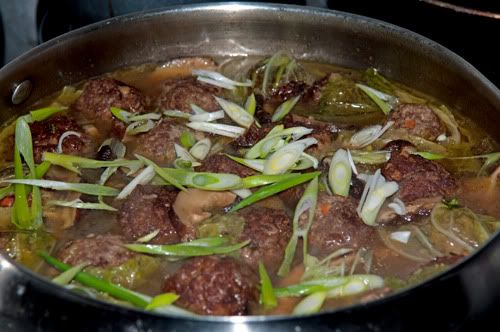 Bon appétit!