Baked beans are very popular fast food in the english-speaking countries. They come in cans and when reheated, they make a lovely and quick meal. In America they are made with pork but in UK and Australia, the baked beans we tend to eat are simply made in a tomato sauce, which makes them very low fat food indeed.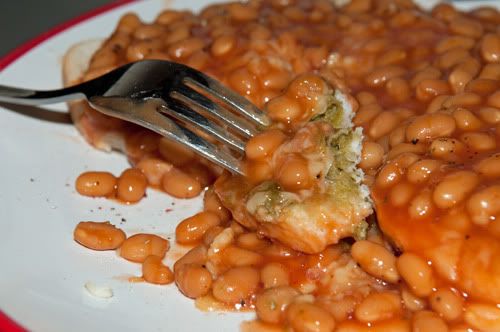 Apart from being an essential part of full english breakfast (with eggs and sausages and fried tomatoes etc) baked beans on toast are the favourite student food. One can costs little more than 50p and will feed you well :)
So, this recipe comes from my student days, when I lived with a guy called Sam who really loved to cook. His parents owned a gourmet sausage roll and pie shop so when the proceeds of the raid of the said shop wore off, we'd have this for dinner instead.
It's really just beans on toast but made fancy with some cheese and pesto :)
Ingredients (serves 1)
2 pieces of toasted bread
a smidgeon of pesto genovese (or any other green pesto)
a handful of grated cheddar cheese
1 can of baled beans
salt and pepper to taste
Preparation:
Toast the bread and heat up the baked beans. Spread some pesto on the toast, sprinkle the grated cheese, spoon over hot baked beans and season with salt and pepper.
Bon appetit!