The other night I had some fresh new asparagus and two small beef fillets. So the option was to just grill both but frankly, I am a bit bored of that. Instead, we made this delightful concoction. We ate it with eggplant dip (recipe will follow) and some pittas, which turned out to be a lot more refreshing and lighter than your typical grilled steak dinner.
Ingredients (serves 2)
2 smallish fillet steaks (cut about 3-4 cm thick)
a bunch of fresh asparagus
2 tbsp Roquefort cheese (can use goat's cheese if you don't like blue cheeses)
sun dried tomatoes
olive oil
kebab skewers or toothpicks
Preparation:
Halve each steak lengthwise to make thin steaks. Beat them with a meat tenedriser to make flat sheets of meat.
Remove tough lower stalks from the asparagus, wash them and blanch in boiling water for a couple of minutes. When done - remove from heat and immerse in cold water to stop the cooking.
Chop the sun dried tomatoes finely, and mix with cheese to get a smooth thick paste.
Divide cheese and tomato spread between the 4 steaks. Spread on the inside. divide asparagus in 4 bunches and place over the cheese spread. Roll the beef rolls carefully, fixing them in place with toothpicks.
Lightly brush with olive oil and grill in a non-stick skillet for 1-2 minutes on each side, until the beat browns and cheese melts. Don't overcook, the meat needs to be juicy when you eat it.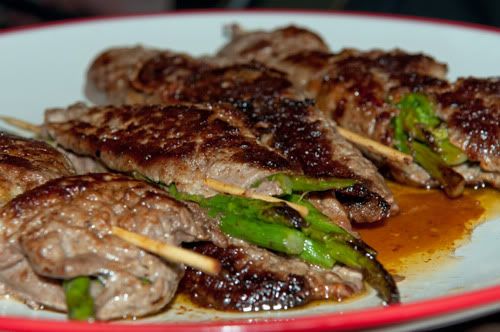 Leave rolls to rest for about 5 minutes and serve with pittas and aubergine dip.
AUBERGINE DIP
Ingredients:
2 medium aubergines
1 red pepper
1 large red onion
3 cloves of garlic
1 tsp cayenne pepper
salt, pepper
2 tbsp tahini paste
juice of 1 lemon
handful of flat leaf parsley
Preparation:
Preheat the oven to 200 C
Wash the vegetables, peel the onion and garlic, and chop roughly to 1 inch cubes. Arrange flat in a roasting dish, sprinkle olive oil, salt, pepper and cayenne pepper (depending on how hot you want it, add more or less) and bake for 45 minutes.
When done, place the veg in a food processor with 2 tbsp tahini paste, handful of chopped parsley and juice of 1 lemon.
Blitz until you get nice colourful homogenous mass. Check for seasoning and add salt, pepper or cayenne if desired. If the dip is too thick, you can thin it out with a splash of water, blitzing briefly after you do so.
Serve with warm pitta breads.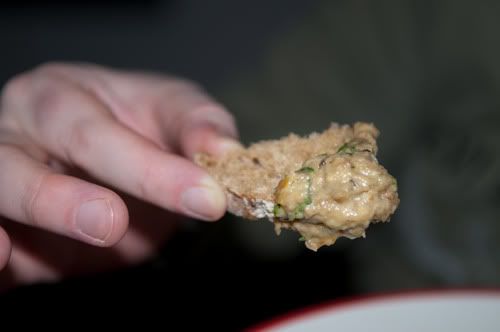 Bon appétit!