We often eat these with asparagus risotto, but they are great on their own too. As a base I use puff pastry from the supermarket, I think it is especially lovely as it puffs up around the corners providing a "case" for the delicious filling.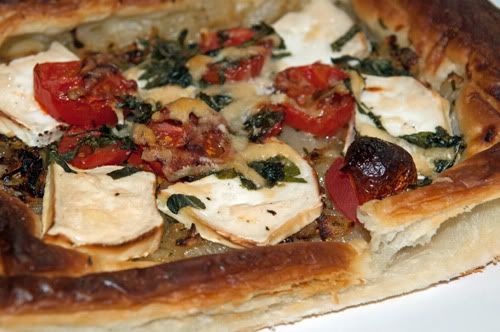 Ingredients:
1 packet ready-rolled puff pastry
2 large onions
4 garlic cloves
1 large tomato (or 4-5 cherry tomatoes)
olive oil
1/4 tsp salt and 1/4 tsp pepper
generous splash of white wine
2 tbsp fresh thyme
2 tbsp fresh basil
parmesan cheese
1 packet (100 - 200 g) goat's cheese
Preparation:
Heat the oven to 220 C
Finely chop the onion and the garlic, and sauté on olive oil in a large skillet, until translucent (abot 20 minutes). Add salt and pepper, wine and thyme and continue to cook until the mixture is lightly caramelised.
Place the pastry onto a baking tray (cover the tray with baking paper) and score with the knife approximately 1 inch away from the edges. Don't cut through, just score it, so it can puff up during cooking. Pierce the inside area with a fork all over.
Sprinkle a bit of grated parmesan inside the scored area, and then spread the onion mixture over it evenly. Cut the goat's cheese in slices and arrange over the onions, and then cut the tomatoes in slices and arrange over the tart.
Sprinkle with chopped basil and a bit of salt and pepper and drizzle a little bit of olive oil on top (not too much, just a touch).
Coarsely shave the parmesan and sprinkle over the tart as a finishing touch.
Bake in the hot oven for 25 minutes. Serve warm with salad and a glass of white wine, or as a side dish to a risotto or meat.
Bon appétit!