(Written by
Momo Kapor
translated from Serbian by me.)
Belgrade is not entirely in Belgrade. Much larger part is in yearning for Belgrade, which makes it more beautiful than it really is.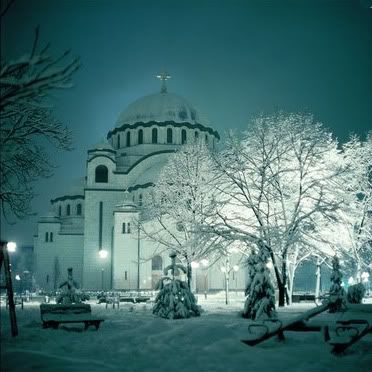 Belgrade* is in Belgrade-like caffes all around the world, where our people still gather...Skadarlija in Richwod, NY. Balkan in Sydney, Australia. Cetiri breze in Brussels. La coza in Karakas. Beograd in Munich. King Petar in Washington DC...
Belgrade is the cherry on the bottom of a Manhattan cocktail that is just now being slowly sipped by a happily married, lonely Belgrade woman who is recapping her life in Kafe Greko in Rome. Was all that really worth so much effort? Would her life have been better if she married Miki and stayed in Vozdovac*?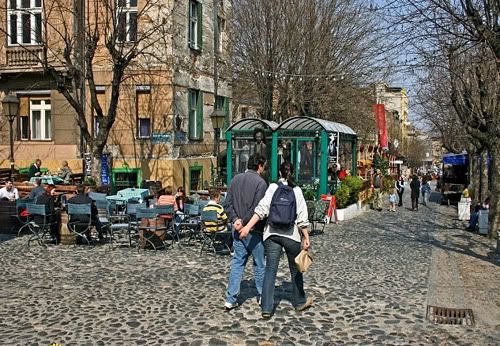 Belgrade was also in a Brussels restaurant called Stara Srbija (close to the Grand market) when the owner Dobrila, former "black lady of Serbian poetry", asked us whatever happened to the poet by the name of Branko Miljkovic, and we told her he has transformed into a monument on Kalemegdan*! She was stunned! What do you mean "a monument"? She used to repair his socks and cook bean stew for him when he was still entirely anonymous?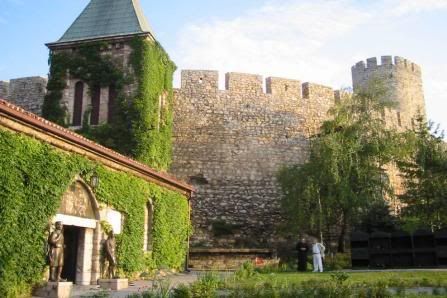 Belgrade is in Hamilton, Canada too, when an old equestrian soldier from the Royal army asks "Does kosava* still blow for three, seven or twenty one days?" and we have no heart to tell him that kosava abandoned us years ago... She got bored, it seems, of trying to blow us away from this hill, so she squeals and complains of her failure now, somewhere in the steppes of Russia.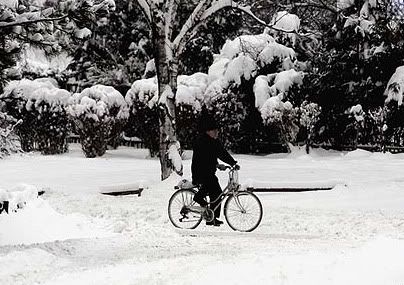 Belgrade is also in the houses of the people who were forced to leave, but they took a tiny part of it with them - a pressed flower in a herbarium, a book, a recipe for blue aubergine moussaka, nicknames of long-gone heartbreakers, graduation photo from Third Boy's Grammar School (the class of 1956-57), sleek Belgrade accent that isn't spoilt even by years of speaking English.
Not even the old Knez Mihajlova*, with it's peeling down facades and broken pavements, is in Knez Mihajlova anymore. It is on the soles of feet of elderly walkers who couldn't "catch a line" on any of the world-famous sidewalks.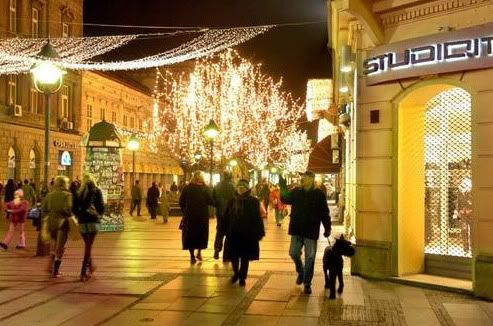 Belgrade is in the old photos of mothers and fathers, grandparents, who during their lifetime never travelled further than Zemun but are now looking upon New York lofts filled with people mingling in seven different languages.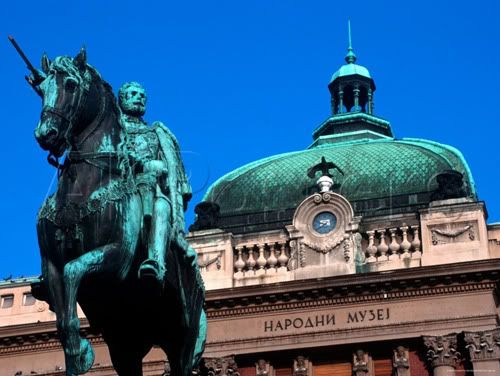 Belgrade is where we pickle just one head of cabbage in a bathroom sink, and with it we make sarma* so we can impress the Australians or Argentinians with "our" food.
Belgrade is in the way that Belgrade people receive guests around the world; it is in the religious icons of St Nikola and St Jovan - the most common ones to be seen at Belgrade slavas* - and the ones that most often travel all the way to Canada or even New Zealand...
Belgrade is...Belgrade isn't in Belgrade. Belgrade is in all those Belgrade people who still can't or are not allowed to come back.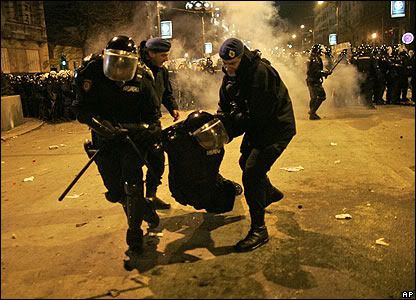 Even I am no longer here, I'm somewhere else, desperately trying to return to myself. Belgrade is not in Belgrade because Belgrade is not really a city - it's a metaphor, way of life, a way of looking at things.
Belgrade is in the idea that enriches the world wherever it's spirit is felt. It is in a joke, accidental gesture, inborn casualness with which one accepts triumphs and failures; Belgrade is where the unit of style is - charm.
Belgrade is in the names of the little Swiss, French, Germans and Americans, whose mothers are form Belgrade. Belgrade is in our index fingers when we dial 011*.
Belgrade is in the saying "bezveze!"* regardless of the continent it is heard on. It is scattered throughout four sides of the world, and I yearn for all these Belgrade people to one day come together again...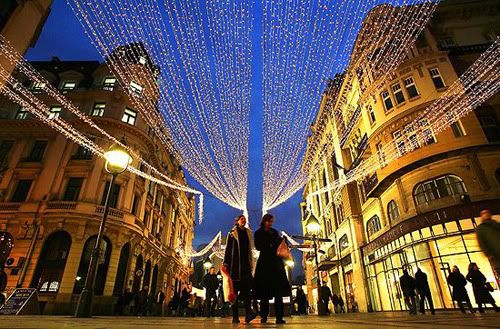 Glossary:
Belgrade
- the capital and largest city of Serbia. The city lies at the confluence of the Sava and Danube rivers, where the Panonian Plane meets the Balkans. With a population of around 2.5 million it is one of the largest cities in SouthEast Europe. Its name in Serbian translates to White city. Belgrade's wider city area was the birthplace of the largest prehistoric culture of Europe, the
Vinča culture
as early as the 6th millennium BC, and since those times it has uniterrupted urban history.
Voždovac
- one of the oldest, central areas of Belgrade City.
Kalemegdan
- a fortress, a park and the core of the oldest section of urban area of Belgrade. It is situated at the end of Knez Mihajlova Street, and together with it makes the most loved urban relaxation spot, much like Hyde Park or Central Park (only smaller).
Košava
- an extremely strong wind that usually visits Belgrade in winter and sometimes in summer. It is cold, can blow you almost off your feet, often comes together with cold rain and even though everyone complains about it, Belgrade is not the same without it.
Knez Mihajlova
- the most famous promenade and a pedestrian zone in the heart of Old Belgrade City.
Sarma
- a delicious cabbage roll filled with a mixture of ground pork, spices, rice and onion, slowly cooked in light tomato broth, traditionally served in winter and major holidays and celebrations.
Slava
- a Serbian Orthodox custom of celebrating the family saint and protector according to the religious calendar. Each family inherits this day from the "patriarch" and continues the tradition of baking the "slava bread" and entertaining the friends and family with food, wine and music. Traditionally the priest gets called into the house for a blessing, but in more liberal families, this celebration has less of a religious and more of a social connotation.
011
- a dialling code for Belgrade
"Bezveze!"
- a common Belgrade saying to express disagreement with something, it sort of means "doesn't make any sense".
(The photos in this post are from Google and used purely for information and entertainment. Please let us know if you are the author, and if you want it removed we will be sad but will oblige.)