This is another one of those fabulous mid-week meals (or any day when you just can't be bothered cooking and you want a fun, tasty and warming meal). This is my adaptation of Nigella's recipe, it is really very yummi and you can have it ready in under 30 minutes.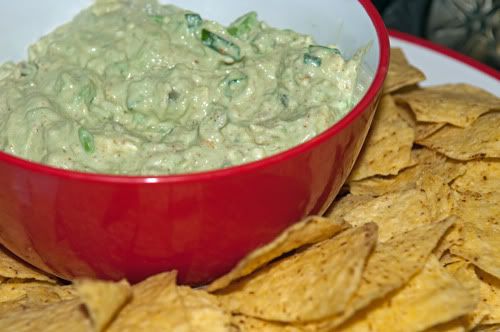 This is a glamorous version of guacamole but with Roquefort cheese added to spice things up. I am not a big fan of blue cheeses but this is really wonderful, and it goes a long way so you won't make a mistake if you serve it as an appetiser at a dinner party.
Ingredients
100 g Roquefort cheese
2 ripe avocados
2 tsp pickled jalapeno peppers
lemon juice
2-3 tbsp half fat sour cream
2 spring onions
sprinkle of cayenne pepper (ordinary paprika if you don't like it hot)
Mash avocados with a fork splashing a little lemon juice on top so that they don't turn grey. Crumble roquefort over them, add finely chopped spring onions, jalapenos and 2 tbsp sour cream. Mix with a fork (let it be chunky, it's nicer that way.
Taste it and if you want it to be less strong, add some more sour cream.
Sprinkle with cayenne (or paprika) and serve with tortilla chips.
CORN CHOWDER
Ingredients
500 g corn kernels (either frozen, from a can or freshly cooked)
1 l vegetable stock
2 tbsp fine semolina
3 spring onions
1 clove of garlic
2 red chillies
salt and pepper
tortila chips
grated cheddar cheese
Preparation
Preheat the oven to 200 C
If using sweetcorn from the can, wash them under cold running water, if frozen - pour hot boiling water over it and leave for 5 minutes, than drain. Otherwise, cook the corn from fresh and cut off the kernels.
Once you have your corn, place it into the food processor, add roughly chopped spring onions, garlic and semolina. Blitz a few times until you get a mushy mixture.
Preheat the stock and to it add the corn mixture. Cook on medium heat for about 10 - 15 minutes until it thickens a bit and starts to smell fragrant. Chop some fresh chillies and add salt and pepper to taste.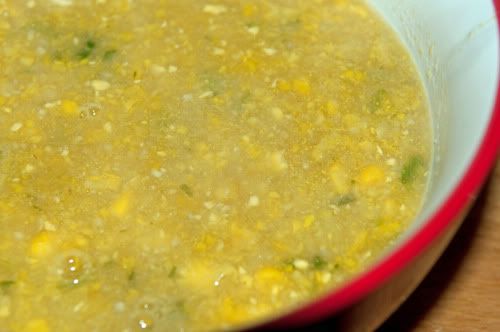 Spread the desired amount of corn tortilla chips and sprinkle grated cheddar over it. Place in the oven for just a few minutes until the cheese is melted and the chips are lightly toasted.
Serve the chowder in bowls with a generous helping of cheesy tortilla chips over it.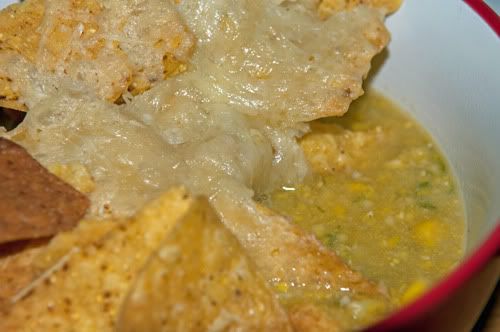 Bon appétit!