This is my idea of winter comfort food :) We had this meal on Christmas Eve and even though it was the first time ever that I cooked it, it turned out perfectly.
I think this is pretty much impossible to mess up, it is a very simple recipe and extremely tasty as long as you get good quality ingredients.
This was organic, free range pork (gammon is basically raw ham, and I like mine lightly smoked and then cooked in the oven with nothing added to it), it wasn't too salty and a small amount went a long way. For this meal you eat the gammon warm and the rest you can eat in sandwiches over the next few days.
Ingredients (serves 4)
1 gammon (approx. 1.2 kg, no bone, organic and free range)
6 medium or large potatoes
1 leek
50 g butter
50 g flour
about 400 - 500 ml semi-skimmed milk
salt and pepper
additional butter and milk for mash potatoes
a handful of fresh parsley
To cook the gammon, score the rind with a knife and cook in a preheated oven at 180 C for 65 minutes per kg plus additional 30 minutes. I cooked my 1.2 kg gammon for 1 hour and 50 minutes.
When cooked, take out of the oven and wrap in aluminium foil and let stand for at least 20 minutes.
If you need to reheat the gammon before serving, place in a preheated oven at 180 C for 5 minutes then reduce the heat to 100 C and leave covered in foil until you are ready to serve it. This will make sure the gammon is not overcooked even if it has to be reheated (as I have done tonight because I got really disorganised at dinner, but that's whole another story)
To make the mash, peel the potatoes, cut them in small pieces and boil for about 20 min until they are soft when pierced with a fork.
Drain and mash up. Add salt and butter to taste, and then add some milk to make it creamy (but add slowly because you don't want to make it to runny).
Slice the leek (white and green parts) and sauté in a bit of butter. After about 10 minutes add a splash of water to make it moist and juicy. Cook all together for about 15 minutes, until tender but not overcooked.
Add sauteed leek to mash potatoes, stir and add a bit of freshly ground pepper.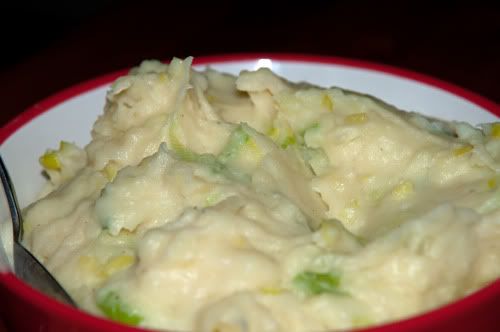 To make parsley sauce, melt the butter and add to it the flour. Mix with a wooden spoon and make into a rue. Let it cook for 5 minutes until the flour is cooked through. Gradually add milk and stir constantly. By doing this, you will avoid the lumps and you will be able to judge when you added enough milk.
Add just enough milk for the rue to be not very thin liquid but significantly thinner than you want your finished sauce to be, because by the time it boils through, it will thicken significantly.
Stir in chopped parsley, add a bit of salt (not too much because gammon is salty) and a bit of freshly cracked pepper.
Keep stirring until you get beautifully thickened, rich sauce.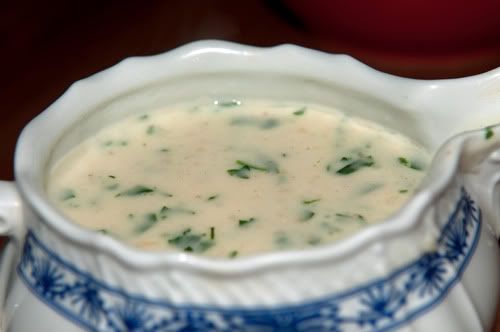 Serve immediately over gammon and with leek mashed potatoes.