Since I saw one of my all time favourite movies - "V For Vendetta" I have been intrigued by the concept of "egg in a basket". For a long time I just could not bear to be that naughty, since Stephen as well as V fry it in so much oil/butter that they actually pour the oil over the bread and egg thus saturating it completely.
Just for the record, I tried doing it that way and it was really tasty. But I found that even if you make it in a lot less oil and just carefully turn it over, you'll still have a runny yolk and an extremely tasty breakfast, minus about 100 ml oil.
A perfect accompaniment to this is a home-made chilli jelly.
This is a Nigella recipe, slightly modified, but I can not recommend it more highly! I made it for Christmas, I dished out most of it to family as presents (together with some cookies and my waterdroplet calendars ) but a half of this big jar was left over and we ate it with everything - these eggs, chinese finger food, we marinaded gammon in it, basically, it is the most perfect sweet chilli sauce I have ever had.
I am preparing myself psychologically to make it again because I don't have a kitchen extractor fan and making this involves boiling 500 ml cider vinegar :faint:
But trust me, it is more than worth it.
Ingredients
2 slices of bread (I use thinly sliced white sourdough)
high quality rapeseed oil "Mellow Yellow" (you can use any oil but this one is magnificently tasty)
2 fresh free range eggs
sea salt and pepper to taste
Preparation
Use a wine glass to cut out a circular hole in the bread slices. Put a splash of oil in the non-stick frying pan as if you were making scrambled eggs (does not have to be a huge amount). When oil is hot, place the bread in the pan and as soon as it starts to sizzle, carefully pour an egg into each hole. Sprinkle salt and pepper and fry for about 2 minutes, until the egg cooks on the bottom.
It will still be raw on top, as in the picture above. Using a fork and a spoon, carefully but quickly turn the piece of bread (and the egg in it will follow) over onto the other side.
Let fry for another 2 minutes (longer if you don't want a runny egg).
Basically, the length of cooking will depend on the size of the egg and the heat of your stove, but I recommend you leave the yolk runny. I hate runny eggs but this one is really awesome if you eat it soft (not raw obviously, all the white has to be cooked completely).
Serve hot with a teaspoon of chilli jelly.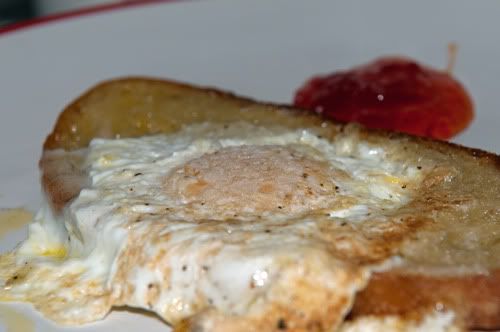 ps. I apologise for not breaking open the yolk for the picture, but the meal was literally torn from my hands by my husband, so this is the best I could do. Of course, I could have tried again with my own portion, but what the heck... :D
CHILLI JELLY
Ingredients
150 g fresh red chillies
150 g red peppers
1 kg jam sugar (this is a sugar that contains pectin and is used to make jams; you must use this instead of ordinary sugar, otherwise you won't get a perfect consistency)
500 ml cider vinegar
sterilised and sealable jam jars
Preparation
Seed and core all chillies and peppers. This will be quite hot but not extremely hot, so perhaps go with these quantities and you can always leave the seeds next time or increase the chillies if you want it even hotter.
Blitz the peppers and chillies in the food processor until really finely minced.
Dissolve the sugar in vinegar without stirring, and add the chilli-pepper mixture.
Bring to boil and leave it to cook for about 20 minutes (make sure you never leave it unattended, I lost half of it when I went to clear out the back garden, thinking I've got 10 minutes, and it all boiled over and made a terrific mess in the kitchen!)
The jelly should become more syrupy at this point, you don't need to cook it for longer as it will further stiffen as it cools. You don't want the consistency like a jello, rather like a thick but still clear jam.
As it cools, the chilli flakes will disperse themselves evenly through the mixture (this needs to be left alone for about 30 - 40 minutes).
Wash and sterilise the jars - I wash them in warm soapy water and then place upside down on a rack in the oven preheated to 140 C for at least 30 minutes.
When the jelly looks good, you can stir it if you want, and pour into the jars, closing with a lid immediately.
Leave to cool completely and store in a pantry for months at the time.
Once you open a jar, store it in the fridge.
Bon appétit!