I was never a fan of turkey - until I made this.
I found this recipe when I went fish and veggie. I no longer craved any red meat or chicken but strangely enough, this made such an impact that within a week I had to try it.
I have Ina Garten to thank for so much of my current cuisine, and this is another reason. Even though I modified this to my taste, it was her who came up with the awesome idea of turkey meatloaf.
Since we use only skinless breast meat this is a wonderfully healthy alternative to ordinary, heavy meatloaf. Also, this is only a half of the original recipe, and as such will feed you for most of the week and certainly over the holidays.
It's wonderful hot but also cold in sandwiches. So, here it is:
Ingredients
2 large onions
4 cloves of garlic
200 - 300g pack of button or chestnut mushrooms
1 carrot OR 1 yellow pepper
2 tbsp olive oil, 1 tsp salt, black pepper
1/2 tsp chilli flakes
2 tbsp fresh thyme
1/3 cup Worcestershire sauce
1/2 cup chicken stock
1 1/2 tsp tomato paste
1.5 kg minced turkey breast
1 - 1 1/2 cup breadcrumbs
2 eggs
1/2 cup ketchup
2 tbsp dijon mustard
2 tbsp brown sugar
Preparation:
Preheat the oven to 170 C
Finely dice the onion and garlic and sauté in olive oil until translucent. Chop mushrooms really finely, into tiny cubes. Do the same with pepper or carrot, and add the vegetables to onions. Sauté until all is wilted and nicely combined. Add salt and pepper, thyme, chilli flakes and tomato paste. Stir well. Add Worcestershire sauce and chicken stock, stir and let it simmer for a few minutes. It shouldn't be too liquidy or too dry.
Let this vegetable mix cool to a room temperature.
In a large bowl, place the meat, add vegetables and 2 beaten eggs. As you mix with your fingers, add breadcrumbs gradually. Mix but make sure it is not too uniform. The meatloaf needs to be just barely able to be shaped. It shouldn't fall apart, but make sure you don't add too many breadcrumbs or this will make meatloaf dry.
Shape the meatloaf in a large ovenproof dish (do not grease it).
Mix ketchup, mustard and sugar into a nice sauce and spread over the top of the meatloaf. This will keep it moist.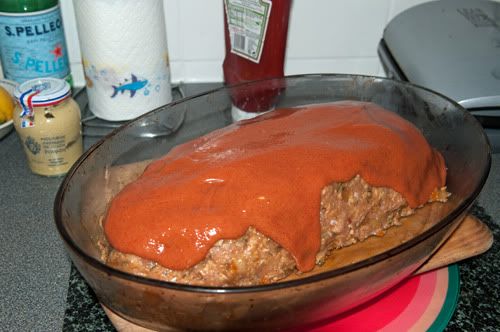 Bake in the oven for about 1.5 hours. Make sure you add a small ovenproof dish filled with water to the bottom shelf in the oven. Evaporation of this water will add to the juiciness of the meatloaf.
Check the temperature with the meat thermometer - when this reaches 71 C the meatloaf is ready.
Let it rest for about 20 minutes, then cut in slices and serve with
savoury bread pudding
Bon appétit!!