This is a perfect accompaniment to
turkey meatloaf
. I intend to make those two dishes for Christmas dinner this year, so this was the super-tasty dry run.
In this recipe I have adjusted the cinnamon to my own taste but feel free to add more or less, depending on what you like.
This dish is wonderfully warming and fragrant and above all tasty, so enjoy!
Ingredients
2 tbsp butter
about 400 g butternut squash
3-4 medium parsnips
salt and pepper
400 - 500 g loaf of challah or brioche
2 cups cream
1 cup milk
8 eggs
1/8 cup brandy
1/8 - 1/4 cup vegetable oil
1 tbsp cinnamon
1 tbsp fresh thyme
Preparation:
Preheat the oven to 200 C
Chop butternut squash and parsnips into 3 cm chunks. Melt the butter and add the vegetables. Season to taste. Saute the veg for about 10 minutes, until they soften up a bit (do not fully cook them as they will be cooked in the oven later).
NOTE: parsnips may need a bit longer so make sure the parsnip chunks are a bit smaller that squash chunks.
Chop challah into 2-3 cm cubes.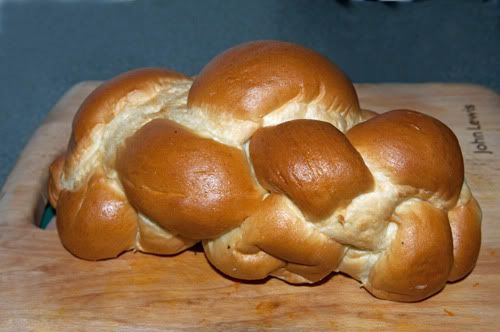 Beat the eggs and to the mix add brandy, cinnamon, oil and thyme. If you use less oil (1/8 cup) add 1/8 cup more milk.
Pour the mixture over the challah and let it soak for 10 minutes. Add vegetables and gently mix through.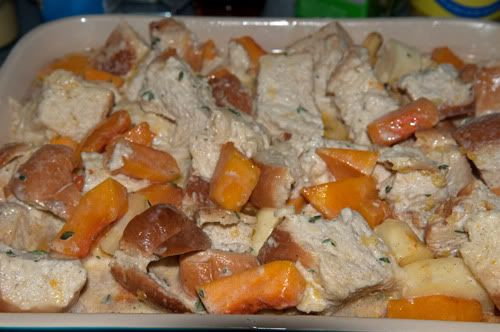 Bake in the greased ovenproof dish for 40 - 45 minuted, until the pudding becomes puffed up and golden on top.
Serve warm with
turkey meatloaf
.
Bon apetit!