Where I live these days there are no restaurants that specialise in Indian vegetarian cuisine. Even though the English love curries, they seem to prefer North Indian dishes, also salty and quite oily. So, finding the most amazing website "Manjula's Kitchen" was a life-saver.
VEGETABLE PAKORAS
I'll put up the recipes here, as cooked last Saturday evening, because these are the most wonderfully authentic versions of my favourite indian dishes and they are not even difficult to prepare.
NOTE: paneer is a fresh indian cheese made from milk and lemon juice. I buy it in the supermarket, but if you can't find it, it is so easy to make at home, have a look at Manjula's video
How to make paneer
Ingredients:
1 medium potato
1 medium courgette
6-8 thin slices of cauliflower
1 cup gram flour
3 tbsp rice flour
1 tsp cumin seeds
2 chopped green chillies
2 tbsp chopped coriander
1 tbsp coarsely ground coriander seeds
1 tsp salt
3/4 cup water
oil to fry
yoghurt, 1 clove garlic and 2 tbsp chopped coriander (for the sauce)
Preparation:
Slice all the vegetables finely (2 - 3 mm thick slices).
Mix gram and rice flour with all the spices, chillies and salt and slowly add water until you get a nice thick batter (but not too thick, it should coat the vegetables nicely and yet not be too heavy).
Heat up the oil, same as for koftas - medium heat, hot enough to sizzle up a drop of batter.
Coat vegetables and fry for 3-4 minutes in batches, draining cooked pakoras on the kitchen paper.
Finely mince the garlic, chop the coriander and mix with some yoghurt for refreshing and tasty sauce to serve with pakoras.
MALAI KOFTA
Ingredients:
1 cup mashed potatoes
1 cup grated paneer
2 tbsp finely chopped coriander
1/2 tsp cumin seeds
1/4 tsp salt
1 finely chopped green chilli
2 tbsp flour
4 tbsp water
2 tbsp oil
1 tsp cumin seed
2 medium tomatoes
1 tbsp minced ginger
1 green chilli
1 tbsp coriander
1/2 tsp turmeric
1/4 tsp chilli powder
1 tsp flour
1/4 cup cream
1/2 tsp salt
1/4 tsp garam masala
2 tbsp finely chopped coriander
Preparation:
First, make koftas and fry them. To make koftas, mix the mashed potato (just mash the boiled potato, do not add seasoning, butter etc) and grated paneer, 1/2 tsp cumin seeds, 1/4 tsp salt 2 tbsp chopped coriander and 1 finely chopped chilli. Mix with hand and form small balls.
Mix 2 tbsp flour with 4 tbsp water into a smooth paste.
Heat up approx 1 1/2 inches of oil - it needs to be hot enough for the dough to sizzle but not so hot for the koftas to fall apart, so heat up on medium heat.
Dip koftas into the flour paste and gently lower into hot oil. Fry for about 3-5 minutes and drain cooked koftas onto a kitchen paper. Set aside.
To make kofta sauce, first blend the tomatoes, green chilli and ginger into a smooth paste. Mix 1/4 cup cream with 1 tsp flour and set aside for later.
Heat a couple of tablespoons of oil on medium heat. Add one cumin seed - if it cracks the oil is hot enough.
To this add coriander seeds and let it heat through. Then add tomato puree, coriander powder, turmeric, red chilli powder and cook for a few minutes, until the mixture reduces by a half and oils starts to separate.
Add milk and flour mix, salt, 1 cup of water and let it simmer (covered) for about 7 - 8 minutes on medium heat.
To this add garam masala, more salt if needed and chopped coriander and let it warm through.
Add koftas immediately prior to serving and leave covered for 2-3 minutes. The koftas will swell up and be ready to serve with rice and Nan bread.
MANGO LASSI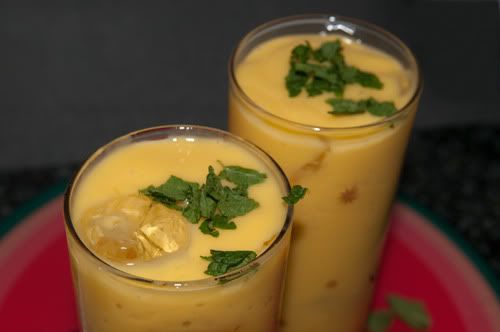 If you have access to perfectly ripe mangoes by all means use them. Here where I live, it is impossible to find a ripe mango so just use canned mango slices, they work really well.
If you use mangoes in light syrup, use less sugar in the recipe.
Ingredients:
2 cans mangoes (or 2 cups fresh)
1 cup yoghurt
3 tbsp sugar (adjust this to taste)
1 tbsp chopped fresh mint
1 cup crushed ice
Preparation:
Blend the mangoes, yoghurt and sugar. Mix in the crushed ice. Pour into glasses and garnish with fresh mint.
Bon appétit!