This super quick and easy dessert has the right amount of soft, fragrant fruit and chewy chocolate sponge to satisfy any sweet tooth, especially in the middle of the busy week when you feel like eating something nice but can't be bothered to spend more than 30 minutes in the kitchen.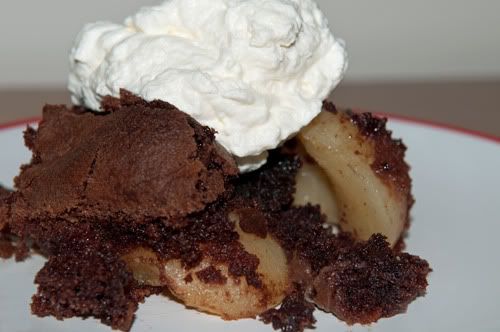 It is a great follow-on from
spicy shrimp baguettes
, which together make a really summery meal even in the middle of winter.
The secret is in canned pears which are available all year round and in this cake taste much better than fresh fruit.
Ingredients:
2 cans pears in natural juice
140 g unsalted butter at room temperature
3/4 cups plus 1 tbsp flour
1/4 cup cocoa
1 1/4 cups sugar
1 tsp baking powder
1/4 tsp baking soda
2 eggs
2 tsp vanilla extract
300 ml whipping cream
Preparation:
Preheat the oven to 200 C.
Butter the inside of approx 23 x 23 cm ovenproof dish.
Cover the bottom of the dish with pear halves. Place all other ingredients in the food processor and blitz for a minute or two until all the ingredients are combined.
Spoon the batter on top of the pears and cover them well.
Bake in the oven for 40 minutes.
Leave it to cool for about 20 minutes. Cut warm dessert in squares and serve with whipped fresh cream.
Bon appétit!