I must brag - this is entirely my invention and it is a-mazing!
We don't eat much meat in my house, mainly veggie and fish, so having real red meat is a special treat and I find that I am a lot more picky and imaginative with it since I don't cook it often.
This came about during a tail end of a cold. Nobody felt like going to the shop to get the usual ingredients for goulash/stew that I was missing - like chopped tomatoes, peppers etc.
All I had was 1 kg of superb beef from the shoulder, cut into large chunks by our local butcher, onions and garlic, celery, a jar of dried wild mushrooms, marsala wine and dried herbs and spices.
In the end I forgot to use the celery but this recipe has turned out so divine that I am shamelessly calling it after - me :D
Ok, since you
have
to try this, here is how to make it
WILD MUSHROOM STEW
Ingredients
1 kg beef from shoulder - cubed (large)
2 large onions
2 cloves garlic
3 tbsp Worcester sauce
1/2 tbsp dijon mustard
1 tbsp tomato concentrate
1/2 cup Marsala wine
30 g dried wild mushrooms
salt and pepper
3 tbsp olive oil
1 tsp Herbs de Provence
1 tsp sweet paprika
a handful of flat leaf parsley
Preparation
Pour approximately 1 1/2 cup boiling water over the mushrooms to rehydrate them. Leave for 20 minutes, then remove the mushrooms saving the liquid (you'll add it to the stew). Chop mushrooms roughly.
Dice the onions and the garlic finely and sauté in olive oil until soft (about 5 minutes). Add Worcester sauce, dijon mustard and tomato concentrate, mix well and add cubes of beef. Season with salt (1 tsp at this stage), fresh cracked pepper and allow to brown for about 10 minutes (don't let it burn, the mushrooms are smokey enough so you don't need caramelised meat you want to keep the flavours delicate).
When the meat is nicely browned, add Marsala wine, mushroom liquid and enough water to cover the meat (but meat peaks are still visible, they are not lost in liquid).
Turn the heat down to medium or lower so that the stew gently simmers.
Sprinkle with sweet paprika and Herbs de Provence and cook slowly for 1 1/2 - 2 hours, stirring occasionally.
The stew is done when the meat is easily "tearing" using spoon and a fork.
Meat in this dish will be extremely succulent and soft without falling apart on its own.
Add more salt to taste and garnish with a handful of fresh chopped parsley
Serve with
CREAM AND VEGETABLE RISOTTO
Ingredients
2-3 cups of frozen vegetables (sweetcorn, carrots and string beans)
1 small onion
1 clove of garlic
1 tbsp butter
1/4 cup Marsala wine
salt, pepper
2 handfuls arborio rice
1/4 cup cream
Preparation
Melt the butter and saute the onions and garlic until soft. Add the frozen vegetables and cook for 5 minutes, then add rice and mix well, so all the rice is coated in a fine film of butter.
Add salt and fresh cracked pepper to taste, Marsala wine and water to cover the risotto well.
Cook on medium heat with lid on (once it boils you can turn the heat down even more).
The risotto is done when most liquid is absorbed and the rice is soft but not mushy (about 20 - 30 minutes).
Add cream and a bit more salt and pepper as desired.
Mix well and serve hot with the wild mushroom stew.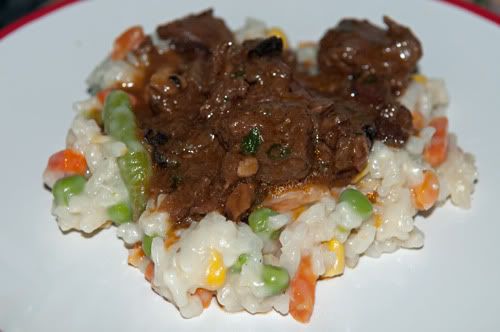 Enjoy!