There are times when I just want the simple indulgence of a chocolate cake. Those are usually the times when I have no chocolate in the house so the fact that this is made just with cocoa makes it that much more of a hit in my book :)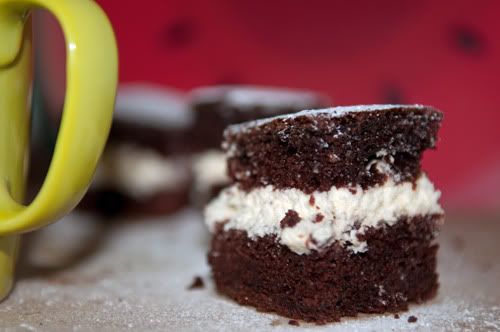 This cake is extremely easy to prepare and so amazingly moist and fluffy, also not too sweet, that it makes a perfect cake just dusted with sugar, cut in half and filled with fresh cream or as a base for more elaborate birthday cakes.
Ingredients
1 3/4 cup plain flour + 2-3 tbsp
1 3/4 cup brown sugar
1/2 cup cocoa
1 1/2 tsp baking powder
1 1/2 tsp baking soda
1 1/4 cup buttermilk (or sour cream thinned out with milk to the consistency of runny yoghurt)
2 large eggs
4 tbsp vegetable oil
1 cup boiling water
icing sugar and 300 ml whipping cream for decoration and filling
Preparation
Mix the dry ingredients first - 1 3/4 cup flour, sugar, baking powder, baking soda and cocoa. Mix through with dry spoon. Start adding the wet ingredients - first add eggs, then buttermilk, oil and boiling water. This will thin out the mix quite a bit so keep mixing on low speed and add one by one, 2 - 3 more tbsp flour, until the batter resembles the batter for american pancakes (thick but not as thick as cupcake batter).
Pour the batter into greased and dusted with flour cake pan and bake for 35 - 45 minutes on 180 C.
After 35 min pierce with a toothpick or a fork to check if it's done - if no batter sticks to the probe, the cake is done.
Take out of the oven and let it cool down for about an hour. Cut lengthwise, and spread whipped cream or any filling of your choice on top of the bottom half, then cover with top half, cut in squares and dust with icing sugar.
Bon Appétit!