I should start by saying that this is a modification of a Nigella recipe, and that it is absolutely divine :)
Ingredients:
3 stale croissants
3/4 cup (150 g) sugar
3 tablespoons (45 ml) of water
3/4 cup (210 ml) cream
3 tablespoons (45 ml) of dark rum
3/4 cup (210 ml) milk
3 eggs (beaten)
Preparation:
Preheat the oven to 180 degrees.
Mix water and sugar and simmer on the stove, stirring frequently, until the syrup becomes amber-golden in colour.
Remove from heat and pour the entire mix of cream and milk and stir until all the caramel is dissolved. You may have to return it to the stove briefly to raise the temperature a bit, in order to melt all the caramel.
Add the rum and beaten eggs and whisk well until combined and smooth.
Break each croissant into 4-5 pieces and arrange on the bottom of 20 x 20 cm ovenproof dish. Pour teh caramel mixture and let it soak in. After 10 minutes, turn over the croissant pieces, and place in the oven.
Bake for 20 - 30 minutes, until risen and golden brown.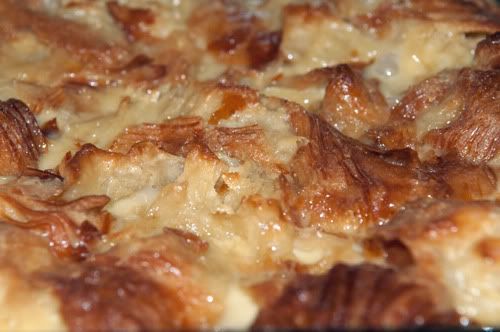 Serve warm with real cream.
Bon apetit!