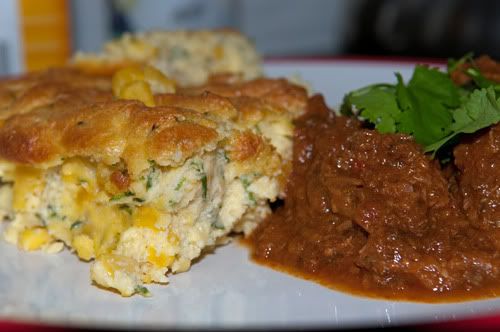 TEXAS CHILLI
Ingredients
3 tablespoons olive oil
1.5 kg beef shoulder
salt and pepper
1 tablespoon chilli powder
1 tablespoon coriander powder
1 tablespoon cumin poder
1 tablespoon paprika
1 tablespoon dry oregano
1 tablespoon cinnamon
2 large onions
10 cloves of garlic
3 fresh chillies
1 red bell pepper
1 teaspoon sugar
2 tablespoons tomato concentrate
1 can (400g) chopped tomatoes
1-2 teaspoons corn flour
For garnish:
fresh coriander
chives
grated cheddar cheese
sour cream
Chop the onions, garlic, chilli and bell pepper. Mix in a food processor until you get a smooth paste.
Cut the beef into cubes and fry on olive oil for a few minutes, until it's seared on the outside.
Add all the spices and herbs, reduce heat to medium and let it simmer for about 10 minutes (don't let it burn).
Add salt and pepper to taste, add the vegetable paste you mixed together. chopped tomatoes and add water until it reaches 2-3cm above the meat.
Let it slowly cook for 2 hours, until the meat easily falls apart.
When the chilli is cooked, press the meat with potato masher until all the meat is in small pieces. To that add 1-2 teaspoons of corn flour and mix well until you get a creamy thick chilli.
Sprinkle with fresh chopped herbs and serve with grated cheddar, sour cream and
CORN SOUFFLE
1 can of sweetcorn
1/2 orange bell pepper
1 tablespoon butter
550 ml skimmed milk
150 ml cream
85 - 100 g fine grade polenta (corn-meal)
1/2 bunch of chives
salt and pepper to taste
3 eggs divided into yolks and whites
Pre-heat the oven to 180 Celsius
Place the butter, milk, cream salt and pepper and polenta into a saucepan. Whiskuntil all is cooked and a consistency of a porridge.
When polenta is done, add sweetcorn, finely chopped pepper, chives and egg yolks. Mix well.
Beat the egg whites until fluffy and firm.
Carefully fold the egg whites into a polenta mixture to get an airy souffle.
Pour the souffle into a 20 x 20 cm ovenproof dish and bake in the preheated oven for 30 or more minutes, until it is well risen, cooked through and golden brown on top.
Serve with Texas chilli.
Bon apetit!
COMMENTS -
u ovome nema brasna, samo palenta, koja je i sama samljeveni kukuruz, pa zato puo bolje ide nego kukuruz u nekom kruhu, na pizzi i slicno
ja inace obozavam kukuruz, i ovo je bas kao sufle, vrlo pjenasto ispadne kad se ispece, pa mozda da probas bi ti se svidjelo, ali slobodno zamjeni sunkom ako ce ti biti bolje, isto bi se fino uklopilo u sam sufle. ili mozes jednostavno samo izostavit kukuruz, opet sufle bude fin, jer mislil da sunka sa chilijem ne ide, ali mozda grijesim :))
a ako pravis samo sufle, onda sunka sigurno nece smetati
u svakom slucaju, prefino je, sigurna sam da ce ti se svidjeti :))