(Terrible picture, will re-shoot it later, but a really tasty dessert)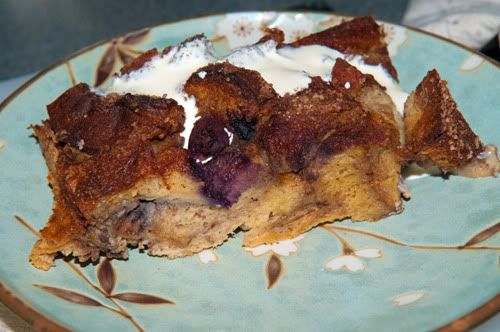 This is a recipe by Ina Garten, by all standards a fabulous cook whose recipes I use all the time :)
INGREDIENTS
6 eggs
750 ml milk
220 ml maple syrup
2 teaspoon + 1 tablespoon cinnamon powder
1/4 teaspoon salt
zest of 1 lemon
500 g brioche or challah
330 g blueberries (fresh or frozen)
3 tablespoons of white sugar (i like it better than with brown sugar, which I tried also)
butter for oiling the pan

PREPARATION

Mix the eggs and milk well. Add maple syrup, 1 tsp cinnamon, lemon zest and salt.

Cut teh bread into cubes and pour the mixture over it. Mix gently and let the bread soak for a few minutes.

Preheat the oven to 180 degrees Celsius.
Butter the inside of a square cake pan, and pour the bread mixture in. Sprinkle the blueberries on top, evenly.
In a separate bowl, mix the sugar with 1 tablespoon of cinnamon. Sprinkle the mixture on top of the cake.

Bake in the oven for about 45 minutes, until the top is golden brown and the cake is cooked through.

Serve warm with whipped cream or maple syrup.

Bon appetit!