This is a version of Hairy Biker's ultimate fish pie, made with best ingredients and a really rich parmesan mash.
Next time I won't add salmon, I am not a big fan of it at the best of times and here I feel it disturbs the delicate balance between the other ingredients.
But if you like fresh salmon I am sure you'll love it.
INGREDIENTS
Mash potato:
1.5kg potatoes good for mashing (King Edward or Maris Piper)
salt and white pepper according to taste
butter to taste100g grated gruyere cheese
Fish broth:
1 l stock (fish or vegetable, i use vegetable)
4 tablespoons dry vermouth
1 onion
1 small fennel bulb
1 small carrot
1 small stick of celery
1 bay leaf
pinch of saffronpinch of salt
Fish:
500g white sea fish (such as haddock, sea bass, halibut etc)
250g smoked haddock
200g fresh salmon
120g fresh king prawns

Parsley sauce
75g butter
75g flour
150ml milk
large bunch of parsley
150ml double cream
salt and white pepper to taste
Additional ingredients for the pie:
butter (for oiling the dish)
125g fresh leaf spinach
4 hard boiled eggs
25g breadcrumbs25g grated parmesan
PREPARATION:
Peel and cube the potatoes, cover with water, add some salt and boil until tender for mashing. When cooked, drain, and mash with a masher so that there are no lumps left. Add salt, pepper and butter to taste. When you are happy with the mash, add grated gruyere cheese, mix well and set aside to use later.
Coarsely chop onion, fennel, carrot and celery. Add bay leaf and saffron, salt, vermouth and stock. Bring to boil, lower the temperature and allow to simmer for 5 minutes.
Add all the fish and prawns and cook for 3 minutes
.
Then remove all the seafood and strain the broth so that you are left with clear liquid.
Set fish aside to cool, and continue simmering the clear broth until the quantity is reduced by half.
When the liquid is reduced, in a separate saucepan melt the butter (from Parsley sauce ingredients) and add flour. Mix well to make a smooth rue. to it, slowly add reduced liquid, keep mixing to avoid lumps. When you have the sauce, add finely chopped parsley, and when it boils up, lower the heat, and allow to simmer for another 10 minutes.
When the sauce is done, add salt, pepper and double cream and stir well. Set aside for use later.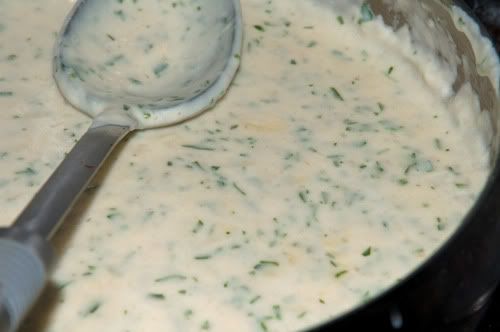 Preheat the oven to 180 degrees celsius.
Boil a saucepan of water and blanch the spinach for a minute or two.
Hard-boil the eggs, cool them and peel them and cut in slices.
Butter the inside of the large square pie dish (ovenproof).
Clean the fish of any bones and skin, flake it and mix it up. Arrange a layer of fish on the bottom of the pie dish.
then cover with half of parsley sauce (save the rest for serving).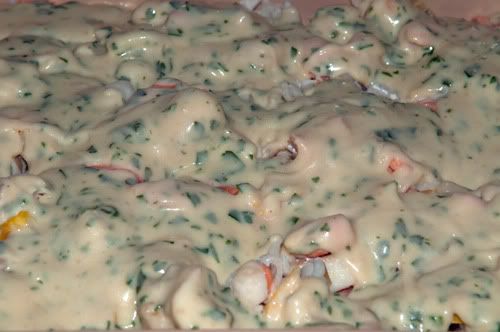 On top of that, arrange slices of egg and spinach leaves, and cover with the mash you prepared earlier.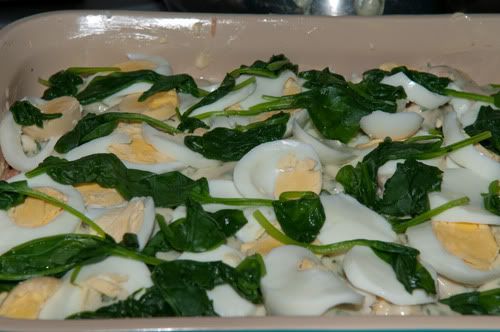 In a small bowl, mix the breadcrumbs and parmesan, and sprinkle on top of the pie.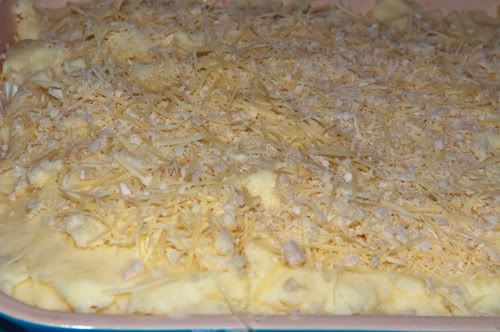 Bake in the oven for 25 - 30 minutes, until the top is golden.
Serve warm, with some warmed-up parsley sauce poured on top of each portion, and white wine or beer on the side.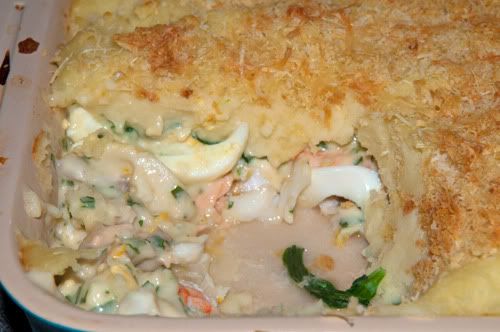 Bon apetit!
COMENTS - 4
pita je jako lagana, izdasna skoro, rekla bih, a i zasitna pa se ne pojede puno :)) moze pivo, svakako, Englezi vole, ali ja ne pijem pivo cesto pa ja uz ribu uvijek bijelo vino. mada moze bilo sto, moze i apple cider sa ledom, pogotovo ljeti :)) lijepi pozdrav :))
Ovo je divota...čini mi se malo pipkavo ali...vrijedilo bi se potruditi. Hvala !!!
znam da zvuci pipkavo ali u stvari je jako lako - napravis pire, skuhas ribu, taj sos je za cas gotov, slozis i to je to. probaj, predivno je :)