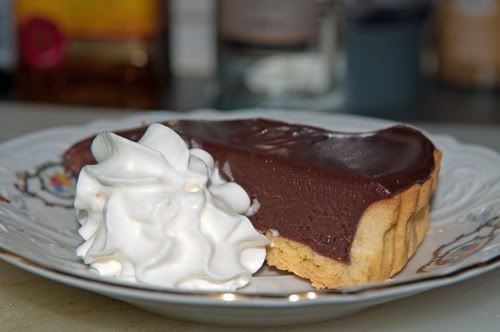 I love chocolate pie, and this one is the rich, sticky, gooey variety. The fill is not a moose, rather, it sets almost like a praline filling, incredibly indulgent and tasty.
INGREDIENTS
For pastry:
12 tbsp (175 g) butter (soft at room temperature)
100 g sugar
1/2 tsp natural vanilla extract
230 g flourpinch of salt
For chocolate cream:
400 ml double cream
a little vanilla extract
50 ml strong espresso coffee
100g icing sugar
400g good quality dark chocolate (approx 70% cocoa)50g butter
PREPARATION
Pastry shell:
Mix butter and sugar into smooth paste. Add vanilla. Sift the flour and add to the mix. Mix with paddle attachment until just combined (don't overmix it, or it will be greasy).
Handle the dough as little as possible.
Roll it out thinly, about 3 - 5 mm, big enough to fully cover the inside of tart/flan dish without stretching.
Place carefully inside the tart dish, and cut off the excess (it should come up all the sides but not over).
Chill in the fridge for about 30 minutes, until it sets and becomes a bit more stiff.
Preheat the oven to 180 degrees Celsius.
Butter one ide of large sheet of aluminium foil and place it, butter side to be in contact with the dough, inside the flan dish. On it place enough dry rice or beans to cover all of the surface. This will prevent the pastry from rising while baked.
Bake for 25 minutes. Then remove from the oven, remove the alu foil and rice/beans, and return the pastry case to he oven to bake for further 20 - 25 minutes.
When done, take out of the oven, remove it from the flan dish, place on a serving plate and allow it to cool.
Chocolate cream:
Bring double cream, vanilla and sugar to boil. Make up a small amount of espresso on the side. It will intensify the flavour of chocolate, but you won't be able to taste it as coffee in the finished pie.
Break the chocolate into pieces, cut butter into small squares and place in a deep dish.
When the liquid has boiled, pour it over the chocolate and butter. Add espresso and start stirring with a wooden spoon (or wire) until all the chocolate and butter are fully melted.
You should get glistening, thick, fragrant chocolate cream.
Pour it into the cool pastry case and allow to settle and cool down at room temperature.
Serve with whipped cream.
Bon apetit!
COMMENTS - 6
hej draga :)) da, posto se valja prilicno tanko, svega pola centimetra, cak i ako probusis viljuskom zna ostati neravno, ne bas da se napuse, ali treba ti udubljeno i ravno da se u njega moze lijepo uliti sav fil. tako da ovdje rade to, naputrena alu folija se stavi da lijepo prione uz tijesto u modli, i u to se stavi riza ili grah (suhi) da daju ravnomjernu tezinu bez ulubina u tih prvih 20-tak minuta kuhanja.
a fil se stavlja tek kad je tijesto peceno i ohladjeno (isti postupak je za pitu od limuna, samo je fiil drukciji) jer bi inace pita bila mljeckava, ovako to tijesto ostane suho i prhko danima, nikad se ne smoci na dnu.
probaj, prilicno je jednostavno, jednom kad napravis poslije ce biti lako :D javi kako je ispalo
već vidim čim ću se igrati sutra poslije jutarnjeg trneinga:D tko preživi pričat će:)
hehe, javi kako ti se svidja :D
opet proučavam sliku kao da će pita iz nje iskočiti :D
izgleda tako njaaaaami
sad sam se dosjetila da mi fali kalup. imam onaj za torte ali taj očito neće bit od pomoći..
joj to znaći još jedan dan više koji dijeli mene i ovo čokoladno božanstvo :)
obavezno javi kako je ispalo :))