One might think that England doesn't have much of a summer, but one gets used to any weather and temperatures become relative. While in the Mediterranean, 30 degree days are pretty normal in summer, in UK we experience that sort of heat as if it's 40 degrees in the shade. In any case, I have already become really lazy with cooking, and would be the happiest if I could avoid cooking all together, because nothing really seems worth slaving over the hot stove.
My favourite foods at this time of year are light, cool or grilled, something that can be done quickly, usually low calorie, with lots of vegetables, and this recipe reminds me of lazy afternoons by the seaside.
ROCKET AND POTATO SALAD
You should probably start with this, because potato will take about 1/2 hour to cook.
Ingredients:
5 potatoes
1-2 onions (I love onion so I use 2)
a bag of wild rocket salad
white wine vinegar
olive oil
salt, pepper
Preparation
Very simple. Peel potatoes, slice them thickly and cook in boiling, light;ly salted water until soft (but not mushy).
Drain and cool.
Chop fresh onion, add to potato, add salt, pepper, olive oil and white wine vinegar to taste and mix well. Add washed and drained rocket, mix well, taste and add more seasoning if required.
Serve immediately.
GRILLED EGGPLANT WITH YOGHURT DIP
Ingredients:
2 eggplants
salt, olive oil
500 ml greek yoghurt
3 - 4 cloves garlic
parsley
Preparation:
Slice eggplant to approx. 5 mm slices. Arrange on a plate and sprinkle with some olive oil and salt, then slice the second eggplant, repeat the process and when all is done, mix well, so that all the slices are lightly coated with salt and olive oil. Leave for 5 minutes to rest (eggplant will soak up the seasoning well, and it must not feel greasy).
Heat the pan (do not add any oil) and when hot, grill the eggplant, turn over and grill until browned on the other side too. Put the grilled pieces into a serving dish and repeat the cooking process untill all eggplant is cooked.
To make the dip, finely chop the garlic and parsley, add to the yoghurt, mix well and season with a little salt. Done!
GRILLED CHICKEN
My favourite way to make grilled chicken is to marinade it in Middle Eastern type marinade first, it gives the most succulent breast meat ever.
Ingredients:
2 skinless chicken breasts
splash of olive oil
juice from 1/2 lemon
salt, pepper
2 tablespoons of yoghurt
Preparation:
Cut chicken into 2 cm thick strips. Pour over the lemon juice, olive oil, sprinkle with a little salt and add yoghurt. Mix well and put in a large plastic bag. Close the bag well and using your fist, tenderise the meat in a few beats. You don't need to do this for a long time, just smack it a few times, it will be enough ;)
Leave it to marinade for 10 minutes or more, really doesn't matter, you can cook it pretty soon.
Heat the frying pan or a grill and cook the strips of chicken until browned on both sides, make sure it is well cooked through but don't overcook it.
Serve with eggplant and potato and rocket salad.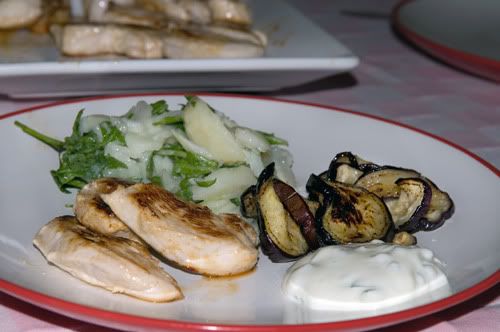 Bon apetit!