Vegetable fritata is the ultimately versatile meal and a great way to eat vegetables. Children love it, as it is even tastier than a meat burger, and when fritatas are made small, they double as a vegetarian burger anyway.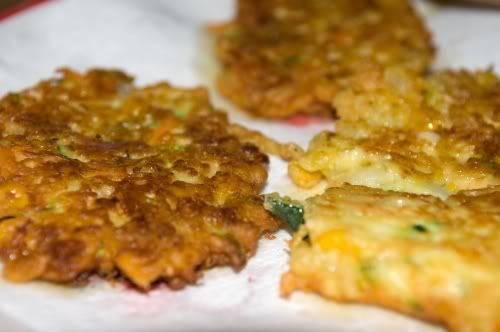 You can put many different vegetables, even nuts (pinenuts, crushed peanuts, walnuts etc), spices and chillies into your fritata, and once you make it, you will no doubt want to experiment with flavours.
I most often make plain vegetarian fritata made of the usual staples - zucchini, carrot, spring onions and corn, occasionally I add grated potatoes, but not when i make it with mash.
What makes fritata a fritata is the thicker-than-pancake batter mix of egg, milk, flour and water, and of course, grated cheese.
VEGETARIAN FRITATA
for at least 12 small fritatas you will need
2 carrots
1 larger or 2 small zucchini
3-4 spring onions
a small can or corn
2 eggs
approx 200g flour
approx 200ml milk
pinch of salt and pepper
water as required
200g grated cheese
(I use cheddar, but any nice hard yellow cheese will do)
you may also add 50g of grated parmesan to the mix for extra flavour but this is not necessery
Grate the carrots and zucchini, wash corn, cut onions into little slices and mix everything. Colours should be evenly represented like on this picture
Mix eggs, flour and salt into a batter and add water as required to get liquid batter, like for american pancakes. This will combine the ingredients and allow you to make little fritatas that won't fall apart when cooked.
Add grated cheese to the vegetables, mix well. Pour the batter into the mix.
Mix everything well, until it looks like you can easily spoon out the fritatas.
Heat some olive oil in the frying pan and gently lower one spoonful of fritata mix at the time to form small fritatas.
Fry on one side until golden, then gently turn over and fry another couple of nimutec until golden and well cooked through.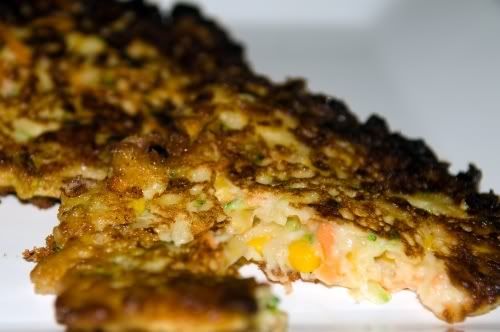 Drain cooked fritatas on kitchen absorbent paper.
MASH POTATO
5-6 medium potatoes
200 ml milk
salt
1/2 tbsp butter
Peel potatoes, cube them into small cubes and cook in boliing water until soft, for about 20 minutes.
Drain, mash it up until smooth.
Add salt to taste and butter, mix well and then add milk until you get the thickness you want - not to thick and not too runny.
You may also add cream cheese, chives, garlic, parsnip or cauliflower puree to your mash, but this time, my mash was plain and simple.
BEETROOT SALAD WITH YOGHURT
300g beetroot
(already pickeld and sliced or fresh, cooked and peeled)
500g greek
(or other thick yoghurt)
3 cloves of garlic
fresh herbs
(parsley, coriander, chives, mint, whatever you feel like on the day)
If making from fresh, slice cooked beetroot, put some salt on it, good helping of balsamic vinegar and a dash of olive oil.
Finely chop garlic cloves and mix with greek yoghurt.
Spread yoghurt mix on the bottom of deep plate, on top arrange slices of beetroot and sprinkle with chopped herbs (parsley, caoriander, chives, mint, whatever you like).
Serve fritatas with a scoop of mash and the beetroot salad.
Bon apetit!