This is another old English recepie that I love to cook because it is easy, quick, tasty and in many ways, an ideal "soul food".
Toad-in-the-hole was traditionally made with meat leftovers, which made it for the dish of the poor, but in order to get the tastiest version of it, I reccommend using the high quality fresh pork sausages. Personally, we love ours Sicilian-style, spicy and flavoursome, but you can take your pick, any flavour will do.
To make this dish for 4 people you will need:
8 fresh pork sausages
1 onion
65 grams of self-raising flour (you can make this by adding about a teaspoon of baking soda to 100 g of flour)
130g ordinary flour
2 eggs
240 ml milk
salt
50g melted butter or some olive oil (I prefer the olive oil)
Preheat the oven to 200 C and heat half the butter (or oil) in it while you prepare the rest of the recepie.
First make the batter by beating eggs and adding milk to the mixture. Continuing to beat, add the two types of flour (sifted and mixed together) and a pinch of salt.
Leave the mixture to rest for about 15 minutes.
Prick the sausages with a fork and grill them until nicley browned on all sides.
Slice onions finely and fry them in the same pan where you grilled the sausages, until they wild down and go a bit brown.
Take the ovenproof dish with hot oil from the oven and work quickly.
Arrange the sausages on the bottom and cover with fried onions.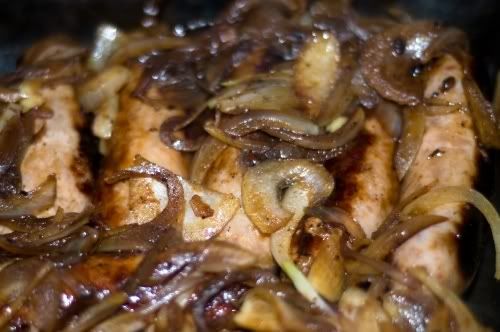 Pour the batter over the sausages and onions.
And bake on 200 C for approximately 30 minutes, until the batter is golden.
My favourite salad to serve with this is tomato, basil and boconccini (tiny white mozarella balls) salad.
Simply slice the tomatoes and basil, add bocconcini, a little salt and a touch of olive oil and you are done!
Bon apetit!
COMMENTS - 2
hehe, bas mi je drago :))