Macaroni cheese are a very popular dish that is eaten in all English-speaking countries. A firm favourite with children of all ages, it also provides a light, mid-week vegetarian option and in combination with either basil tomato and bocconcini salad, or preferably, beetroot salad, gives a lot of taste and vitamins in one.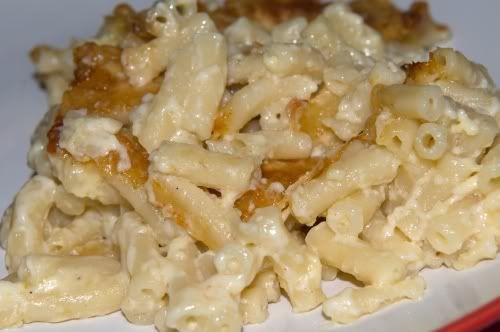 The most important ingredients here are a good quality pasta, nutmeg, pepper and hard tasty cheese, like English cheddar.
Macaroni are one of the smallest shapes of pasta, essentially tiny hollow tubes but they can also be curved. You can use any hollow pasta that will hold cheese sauce well, but I somehow always go back to classic macaroni.
They should be cooked al dente, because you will further cook them in the oven, and the better the pasta, the better it will hold its shape.
Ingredients (for 4 people)
1/2 packet of macaroni (approx 250 - 300 g dry pasta)
1 - 1 1/2 tablespoon of flour
50 g butter
nutmeg, ground black pepper and salt to taste
approx 250 ml milk
250 - 300 g grated cheese
(cheddar or can combine half mozarela half cheddar for lighter albeit less tasty option)
Grate the cheese.
Boil a lot of water in a large pan. If the pasta is not very high quality, add a bit of olive oil and salt to prevent pasta from sticking, otherwise, bring water to boil, add pasta and cook on medium fire for about 15 minutes.
In a separate small saucepan, melt the butter, add flour and stir until you get roux. All of it should be even, smooth and bubbling. Add cold milk gradually, whisking with hand whisk continuously to prevent curdles forming.
You will end up with fairly liquid but smooth mixture. Keep gently whisking over medium heat. Add some salt, pepper and nutmeg to taste and keep whisking until it starts getting thicker (in about 10 minutes it will, I promise).
When it looks the thickness of a cheese (or bechamel sauce) take it off the heat and add two-thirds of grated cheese. Mix gently until all cheese is dissolved and you have a yummi cheese sauce.
Pasta should be ready by now. Drain it of all water first.
Prepare an ovenproof dish, not too big but reasonably deep. It is better if the macaroni cheese are not laid out too thin.
Just put macaroni into the dish, pour the cheese sauce over them and mix well ensuring that all the pasta is well soaked and that sauce is spread out evenly.
Sprinkle remaining grated cheese on top
and add to preheated oven, bake on 200 C for 15 - 20 minutes until the cheese on top is melted and begining to look golden.
BEETROOT AND GOATS CHEESE SALAD
This combination of tastes is match made in heaven. There are milion variations of this recipe all over the internet, but what all these have in common are beetroot, goat's cheese and chives.
I usually buy cooked and peeled beetroot that hasn't been pickled in vinegar, but you can also buy jars of ready-made stuff.
For 8 little beetroot towers you will need:
1 packet (approx 4-6 small cooked and peeled) beetroots
1 packet goats cheese (either cream cheese or solid one)
1/2 packet of chives
olive oil, balsamic vinegar, salt
a splash of milk (if using cream cheese)
walnuts, pine nuts or sunflower or pumpkin seeds
, whatever you feel like
Slice the beets in 5mm thick slices, season with a splash of olive oil, salt and quite a bit of balsamic vinegar (you want it to be yummi and acidic, but add vinegar gradually and taste along the way).
If working with solid cheese, cut in 8 thick strips (if working with cream cheese, mix it with a bit of milk until it's easily spreadable, and add finely chopped chives to the mix).
Layer a slice of beetroot, followed by goats cheese and sprinkle of chives, then beetroot again (2 slices) until you get 8 little heaps. pour reamining beetroot marinade juice over the beetroot salad, sprinkle with remaining chives and nuts (I used walnut halves this time).
Serve with hot macaroni cheese.
Bon apetit!
COMMENTS
istina :)) no jako je pa se ne pojede puno, a i salata ide pod obavezno uz to