This is my favourite quiche, as well as a really lovely vegetarian alternative to a midweek dinner, this recepie serves 4 people so if you are cooking for 2, you'll have lunch the next day as well.
Also, when it cools down, it cuts into tiny cubes beautifully and is a firm party finger-food favourite in my house.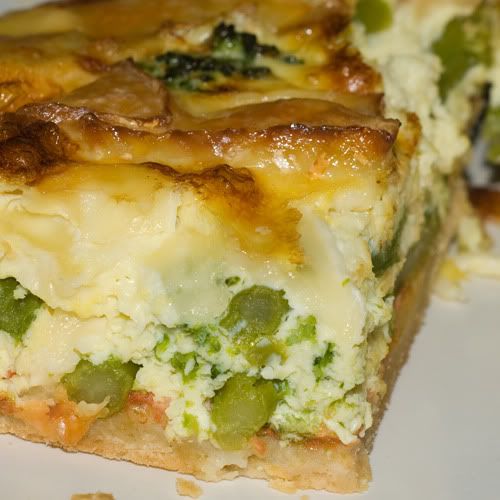 Ingredients:
for pastry:
(use kitchen machine or dough mixer for this, it takes only 3-5 minutes to make it, don't overmix it because then the dough becomes greasy)
200 g plain flour
100 g butter (soften it for 2 minutes on defrost in a microwave for really quick and easy mixing)
70ml cold water
Put all ingredients into the mixer and mix until well combined into a dough ball. Cover the dough with cling wrap and leave in the fridge for 30 minutes.
Fill:
1 pack tenderstem broccoli
2 tbsp tomato passata
250g wedge of brie
5 eggs
170 ml milk
salt, pepper
Wash and quickly steam the broccoli.
Roll out the pastry and place in a lightly oiled quiche mould (or any medium square or round ovenproof dish).
Cover the bottom of the pastry with passata, on that put steamed broccoli.
Cut brie into strips and put all over the broccoli, and in-between the stems so that the finished quiche has this flavour throughout.
Whisk eggs well, add milk, salt and pepper to taste. Pour gently all over the quiche, making sure that it pours between the cheese and broccoli too.
Bake at 200 degrees for about 50 minutes, until quiche is golden and cooked through (make sure it is not still liquid in the centre, test with the fork).
Serve with any salad you like.
Bon apetit!