This is my soul-food and a favourite dish. My mum never had to ask us kids what we wanted for Sunday lunch because the answer was always the same:" Chicken with rice and potatoes!!"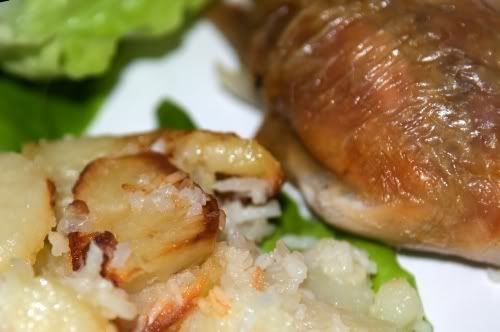 People usually look at me with suspicion when I tell them that this dish contains the mixture of rice and potatoes, cooked together, not separately. But the combination is so sublime that you'll just have to believe me and try it, you will not regret it, I promise :)
It must be served with a good amount of fresh round lettuce, because the salad perfectly balances the richness of protein and carbohydrates and is therefore equally suitable for a main meal in winter and summer.
For 4 - 6 people you'll need:
6 large potatoes
1 cup of arborio rice
1 whole organic, free-range chicken
oil, salt pepper
mustard and honey
if you want to add that extra "something-something" to the taste of chicken
If making a marinade, mix honey and english mustard with a bit of oil until you get a nice sticky consistency. Use your fingers to rub the marinade into the chicken skin and leave in the fridge for as long as you want (but you can bake it immediately as well).
Bake the chicken in the oven as per instructions (180 - 190 degrees, 20 minutes for each 500g of chicken, plus another 30 - 40 minutes, so do your calculation well because you want your chicken perfect, but usually, 1.5kg chicken needs close to an hour and a half).
Peel the potatoes and cut into slices as if you are makin mousakka. Add splash of olive oil, salt and add raw, washed rice. Mix well.
When you have approximately 1 hour left on the chicken, take it out of the oven and remove all liquid fat (I do, you don't have to, it's really tasty but it adds unnecessery calories).
Arrange the rice/potato mix around the chicken and pour 1/2 - 1 tall glas of lukewarm water over the potatoes, so that it forces the rice towards the bottom, and leaves about 1 cm of water in the bottom. This water is necessery to cook the rice and will reduce the amount of oil or fat you need for your potatoes.
If you feel like it, add a couple of tablespoons of melted chicken fat on top of potatoes, or a splash of olive oil. Mix a little with a spoon, cover with aluminium foil and return to the oven.
When you have about 15-20 minutes left, take out of the oven, mix the potatoes and rice with spoon and remove aluminium foil before putting it back into the oven to give it a nice crispy crunch.
When it's all done, remove the chicken onto a carving plate, cover it with aluminium foil and do not carve it for at least 20 minutes, that way, the chicken will remain juicy and succulent.
Wash leaves of butter lettuce, drain and add salt, a bit of olive oil and balsamic vinegar to taste. Mix well.
Serve the chicken, rice and potatoes and salad as a Sunday family lunch ::D
Bon apetit!