This tasty traditional Balkan dish has many names: pita, gibanica, savijaca, burek...
Very few Yugoslavian ex-pats don't miss the taste of burek. People say that burek pastry has to be stretched by hand, all over a surface of the table so it's reallly thin and i believe it's true that it is the best burek if made that way, besides, the best potoato-burek i ever ate was the one my bosnian friend's mum made, but i never had the courage to try to make everything from scratch.
If you have a specific "yufka" pastry, make sure you use it. When I', in London I buy some and keep for later but this time I only had the ordinary supermarket ones, very thin and fine, normally would be used in strudels.
But trust me, as many esseys that are written about the appropriate pastry for burek, it is really not important because, the bottom line is, in any form, this meal is very simple to make and satisfying to eat.
Gibanica (this is my preferred term for all savoury strudels or bureks) always gives you a large enough quantity to feed many people, and you can keep it in the fridge for a few days as well.
As far a gibanica's go, i make meat, cheese and spinach, but you can pretty much stuff the pastry with whatever you like, and I hear really great things about mushrooms as well.
But meat gibanica seems to be any man's all time favourite and if you know how to make thsi one, other recepies will be a piece of cake.
Ingredients:
1-2 packets of filo pastry
1 ricotta (250g)
2 sour creams 250 ml each
3 eggs
salt, pepper
500g lean steak mince
2 onions
olive oil
milk as needed
Preparation:
Mix 2 eggs and add ricotta, sour cream and salt.
Finely dice the onion and fry in a bit of olive oil. Add mince, salt and pepper.
Brown the meat lightly and set aside.
arrange filo in lightly oiled pan. 2 sheets of filo, a little oil, another sheet and on that spread a bit of cheesy mixture and a bit of mince.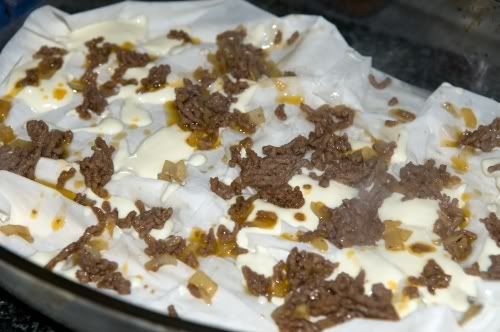 Repeat until you use both mixes and all of the pastry. Finish with 3 sheets of filo, like you started.
Cut gibanica in pieces with a very sharp knife. You are doing this so that it can soak up the liquid you'll pour over it.
Mix 1 egg with 1 sour cream, a little bit of salt and some milk (add until the mix is runny but not too runny).
Pour over gibanica and leave for 30 minutes.
Heat the oven to 200 degrees. Bake gibanica in the middle of the oven for about 35 minutes, until it gets golden brown colour.
While you wait, go and annoy the dog. You will need a camera and a dog cap.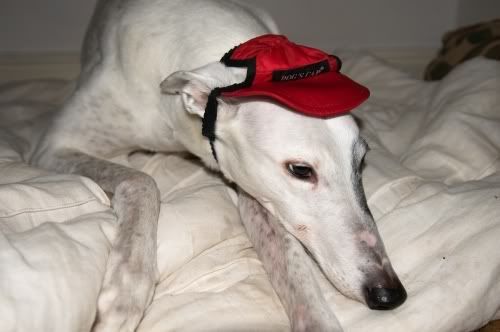 Just when the dog starts looking really depressed because of the flash, your cracking up and kissing him, the gibanica is most likely done :D
This is how it looks when you cut it straight away because you want to put the pictures on the blog.
But I suggest you leave it for half an hour until it cools down, it will hold it's shape a lot better :))
Bon apetit!