There are very few ingredients that work equally well in summer and winter as spicy lentils with citrus.
I never tried lentils until I moved to Australia. In the Balkans, our staple foods are meat, fish potatoes and various vegetables, but as far as legumes go, we like our beans and that is pretty much it.
Naturally, in the last 20 years or so, Balkan cuisine embraced various world influences, but when I was growing up, all that was largely unavailable.
So I quickly became an afficionado of South Indian cuuisine, which wasn't hard since Melbourne remains the city with the best reastaurants in the world (trust me on this ;)), and the food is indeed amazing due to very developed multiculturalism as well as so many freshly sourced local ingerdients which ripen all year round in plenty of sunshine and warm weather.
In any case, this soup, which I often serve as a main course, is done in less than 30 minutes, keeps amazingly well for at least 2 -3 days, and since you have to make about 2 litres of it, there is plenty to go around :D
Ingredients:
1 onion
2 cloves of garlic
1 carrot
1 stem of celery
olive oil, salt, pepper
2 chilli peppers
400g dried red lentils
2 l vegetable or chicken stock or dissolved cubes in that much water
juice of 1 - 2 lemons (i use 2 but i love the citrus in it, if you are less keen, use 1)
2 tsp cumin
1 tsp ground coriander
1-2 tsp Garam Masala (added at the end)
To serve:
yoghurt
fried onions
croutons
Preparation:
Finely chop onion, garlic and chillies and fry on a little olive oil. Add cumin and coriander and fry the spices shortly. Add finely chopped celery and carrot and sautee for a while longer. Add lentils, mix well and pour the 2 litres of stock. Add salt and pepper (you'll probably add a bit more at the end of cooking, just be careful not to oversalt it), and add lemon juice.
Cook over medium fire for about 20 minutes, until lentils are well cooked and the soup gets a consistency of thin porridge.
Add Garam Masala (and a bit more cumin if you wish, here you can also add more lemon juice and salt), mix well and allow to simmer for another 5 minutes.
Cut onion into rings and fry in a little olive oil until brown. drain on kitchen paper. Buy croutons :D if not, use old bread slices - mix a bit of olive oil with some dried herbs, then spread a little of the mix on both sides of bread, toast it well and cut into cubes for home made croutons.
Serve soup in bowls, by adding a tablespoon of yoghurt, sprinkle with fried onions and add some croutons.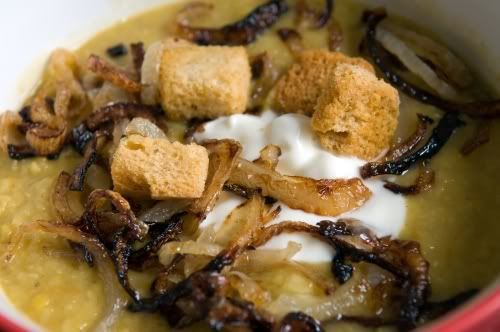 Limoncello
Limoncello is an Italian digestive liquer made from lemon rind and vodka, you can drink it all year rouund as an aperitif, digestiv or added to sodas and cocktails.
It is very tasty, beautifully yellow drink that looks simply gorgeous and brings the flair of Mediterranean to every occasion.
For approximately 2 litres of limoncello you'll need:
1 l good quality vodka
280g sugar
280 ml water
6-8 organic, unwaxed lemons
Melt sugar in water over low heat, don't boil it, just wait until it becomes clear.
Peel lemon skin thinly (don't leave a lot of white on it).
I use plastic 3 l jug to ferment it, so put the rind in a jug and pour hot mixture of sugar water over it. Add vodka, mix well and cover with an airtight lid.
Leave covered in a well aired dark place (I cover it with a cloth and put it on a top of a display cabinet in my dining room.
Every day shake the mixture and cover again, repeating the process for 10 days, after which time you will have your limoncello :)
Pour through a fine siv or a gauze into clean glass bottles and store as you would any spirit.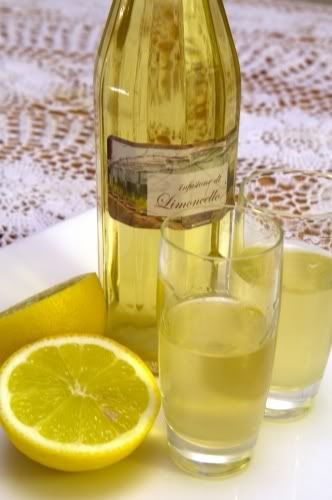 I make my own labels and give them out as Christmas presents, levaing one bottle for myself ;)
Cheers!
Malibu fruit salad

This is my absolute favourite winter sweet, because it utilises simple winter fruits and the addition of Malibu white rum gives it a divine, tropical taste that will leave you definitely having your 5-a-day :)
The recepie is simple and the salad keeps for up to 3 days (just make sure you only add banana into ready to serve portions, otherwise it ruins the salad the next day).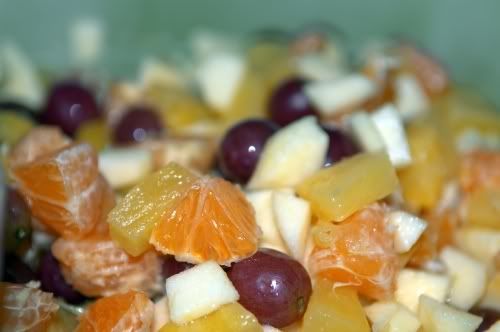 Ingredients:
2-3 sweet mandarins or 2 oranges
2 apples or pears
1 can of pineapple (or peaches) with no added sugar
red seedless grapes
a nice splash of Malibu white rum
Cut all fruit into medium sized cubes, add grapes and a splash of Malibu - mix well and you are done!
This was my contribution for the game
Ajme, koliko nas je!
whose host this month is
Mignonne
and the topic was citrus fruits :).