Savoy cabbage is very healthy, it has a lot of Vitamins B, C and folate as well as fibre, it fights the cold and it has low glycemic index which means that it slowly releases carbohydrates keeping your sugar levels steady (and it's low cal so you can eat enough of it not to feel hungry especially if you are dieting).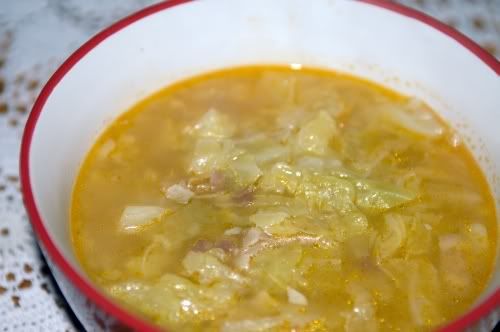 Some people boil the kale and discard the water first because they say it "smells" but I never do that because that water is full of good nutrients, and the smell of kale? Well., cabbage smells, but it adds to the flavour so I don't reccomend discarding the water and replacing it half way intio the cooking. Just embrace the goodness :)
Curly kale stew:
1 head savoy cabbage
50 g pancetta (exclude if you want this to be vegetarian)
2 tbsp olive oil
salt, pepper
3-4 cloves of garlic
3-4 potatoes
1 tbsp tomato concentrate
red paprika
Finely chop pancetta and heat in a deep saucepan until nicely golden. add finely chopped garlic and then, washed kale cut into strips.
Add tomato concentrate mixed with some cold water, add salt and pepper, peeled and cubed potatoes and 1 - 2 litres of water or vegetable buyon (the amount of water depends on amount of kale, but water should just cover all of the fresh kale).
Sprinkle with paprika, stir and let it slowly simmer for 30 - 40 minutes.
When kale is withered and potato soft, the stew is done. Check that it is salty enough, if not, slowly salt to taste and you are done.
You can serve this with a dollop of creme fraiche, it's really a very nice variation.
The best accompaniment to this are minced beef risoles, and they are also easy to make.
Beef risoles
These you'll be making while the stew is cooking.
500 - 800 g lean beef mince
salt and pepper
1 egg
3 - 5 cloves of garlis
breadcrumbs (or preferably, 2 - 3 thick slices of old white bread
, soaked in a bit of hot water and milk)
Chop garlic finely, soak the bread in milk and water until soft. Add garlic, egg, salt, pepper and bread (drain it in your hands of excess liquid first).
Work the mix with your hands until all looks consistent, it doesn't excessively stick to your hands and you can make little burgers the size of the palm of your hand (rissoles) out of it.
Shallow fry the rissoles in about 2 cm hot oil, until well brown on both sides (use high heat so that the inside remains moist and tender).
When done, drain them on kitchen paper first.
When you use up all the mixture, serve with hot kale stew and some fresh baguette bread.
Apple strudel
1 pack thin filo pastry
2 kg Granny Smith apples
3 tbsp sugar
cinnamon, a splash of rum
100 g ground walnuts
milk and oil
Peel and grate the apples. I never drain them, rather, if they are too wet even after adding walnuts, you can always sprinkle a little breadcrumbs, but don't be afraid to leave it wet, because then the baked strudel is more juicy and succulent.
Use 2-3 (depends on thickness) pieces of pastry per strudel.
First sprinkle 1 tsp oil all over the filo, then 1 tsp of milk. add grated apples, 1.2 tbsp sugar, sprinkle with walnuts and cinnamon and roll. (You can also pre-mix walnuts, apples, sugar an cinnamon and just use the completed mixture if you wish).
Place strudel in a well oiled baking tray.
Repeat the process until you use up all the pastry and apples.
This quantity is usually enough for about 5 - 6 strudel rolls.
Before you bake it, dip your fingers in remaining oil, then milk, and base the top of strudels (you can use an eggwhite for this, but i usually don't).
Bake on 180 for about 35 minutes, until golden brown.
Some people like to pour baklava-style syrup on the warm strudel, and it tastes wonderful, but this time, we are opting for a lighter version of this cake ;)
When it cools down, cut each roll into pieces, lightly dust with icing sugar and serve.
Bon apetit!